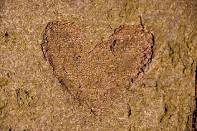 February is heart month in the United States and a month I am considering how to nourish a spiritual healthy heart.
How can I cultivate my heart this season? How can I go deeper?
February 22 is also Ash Wednesday and the start of the Lenten season. How best can I prepare my heart of my Lenten journey? How will my heart be healthier by Easter?
A great fellow blogger, Jen Ferguson, is exploring the word
Cultivate
on Thursdays on her blog,
Finding Heaven
. 
She invited me to guest post there today. I am excited to have Jen as a guest blogger here to add to this discussion in a few weeks.
Please join me over at Jen's blog and read more about cultivating your heart.
Click here
Here is a teaser:
"Cultivate my heart, Lord. Break up its hardness and plant your harvest of love within me.
The word cultivate scares me too. It tells me I can't just cultivate the surface to be transformed – I have got to go deep and that may hurt a little. I am not sure what will happen if God enters my heart's darkest places."  
 Come on over…you will enjoy exploring her blog.