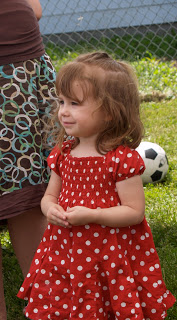 Kyla turned two on Sunday. We had a beautiful day –perfect weather – friends, family, and a gaggle of toddlers enjoying the sun, backyard wagon rides, and learning to take turns sliding on the new swing set.
How blessed we are to have two sets of great grandparents, three grandparents, a great aunt, aunts and uncles, cousins plus friends celebrating life together. 
I paused and deeply took it all in. What a gift to have multiple generations connecting.
God gave us community. He plants the seeds to create loving, supportive bonds through family and friends. We live healthier lives when we nourish those seeds and help them blossom.
I haven't always appreciated this gift. I complain about the time it takes. I whine when I don't see immediate results. I focus on the labor and not the often, invisible benefits. I let my pride and self sufficiency lead a lonely walk instead of enjoying the journey with companions willing to walk with me.
Even in the age of social networking and instant messaging, we live in a fractured world. I don't think we appreciate the power we can tap and the support we can experience when we link with others and build friendships. 
This year has been draining for me.  At times I wondered where God was and if I was proceeding down the right path. In hindsight (and isn't that where our vision is clearer with reflection?) I see His presence in connecting with others. Community made all the difference.
Prayers from friends.
Others who took the time to listen.
Internet friends I never met in person, but knew we connected spiritually.
All community.
All pointing to the value in cultivating connections.
"The whole meaning of the Christian community lies in offering a space in which we wait for what we have already seen. Christian community is the place where we keep the flame alive among us and take it seriously, so that it can grow and become stronger in us. In this way we can live with courage, trusting that there is a spiritual power in us that allows us to live in this world without being seduced constantly by despair, lostness, and darkness…Waiting together, nurturing what has already begun, expecting its fulfillment – that is the meaning of marriage, friendship, community and the Christian life."
I am grateful for community.