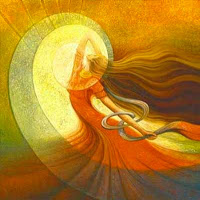 "Who do you think will win?
"My wife is addicted to that show."
"My daughter is pulling for that guy who plays for the Bengals."
Snippets of conversation I overheard this weekend, all concerning the television show Dancing with the Stars.
"God is the lead dancer and the soul is the partner completely attuned to the rhythm and patterns set by the partner. She does not lead, but neither does she hang limp like a sack of potatoes."
Thomas Merton, quoted in
Listening to the Music of the Spirit: The Art of Discernment
, by David Lonsdale.
Now that is the Star I want to dance with every moment of my life. My deepest desire of my heart is for God to be my lead dancer.
Reminded me of the story I bet many of you are familiar with:
"When I meditated on the word Guidance, I kept seeing "dance" at the end of the word. I remember reading that doing God's will is a lot like dancing. When two people try to lead, nothing feels right. The movement doesn't flow with the music, and everything is quite uncomfortable and jerky. When one person realizes that, and lets the other lead, both bodies begin to flow with the music. One gives gentle cues, perhaps with a nudge to the back or by pressing Lightly in one direction or another. It's as if two become one body, moving beautifully. The dance takes surrender, willingness, and attentiveness from one person and gentle guidance and skill from the other. My eyes drew back to the word Guidance. When I saw "G": I thought of God, followed by "u" and "i". God, you, and I dance ("God," + "u" and "i," + "dance."). As I lowered my head, I became willing to trust that I would get guidance about my life. Once again, I became willing to let God lead."
Jean Rhodes
At a workshop this past weekend I felt God gently ask, "Where are your eyes focused?"
I am not a good dance partner if I am distracted by my surroundings whirling around me and not paying attention to my Partner.
Like Jean Rhodes wrote above:
The dance takes surrender, willingness, and attentiveness from one person and gentle guidance and skill from the other.
Quotes to ponder this week:
I would believe only in a God that knows how to dance.  ~Friedrich Nietzsche

We're fools whether we dance or not, so we might as well dance.  ~Japanese Proverb
You can dance anywhere, even if only in your heart.  ~Author Unknown
I see dance being used as communication between body and soul, to express what it too deep to find for words.  ~Ruth St. Denis
To watch us dance is to hear our hearts speak.  ~Hopi Indian Saying
You lead, Lord.
My work is to surrender daily, giving You my willing heart and all my focus.
Fixing my attentiveness on my lead Partner this week and hopefully much longer.
What helps you focus on God?