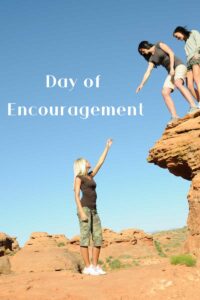 Be encouraged, not discouraged!  We just missed The National Day of Encouragement held yesterday September 12. This day is dedicated to encouraging and having a positive impact on those around us.
I like having one day to increase our awareness of encouraging others and to inspire us to put this into practice and actually be encouraging. But why stop at one day?
Let's make this a daily discipline – try to encourage at least one person every day. Your words have the power to lift someone when they are down. They also have the power to motivate someone who might be struggling or encourage someone to pick themselves back up after a setback.
A small act of encouragement could be the spark that changes a loved one's perspective. To praise and encourage someone's efforts is a practice worth having, no matter the day of the year.
And just think: The day of encouragement follows Sept. 11, a day full of hurt, confusion and hopelessness. Sept. 12 seems an appropriate time to acknowledge the importance of coming together and encouraging others. Encouragement matters.
I learned that this special day, first began in 2007 and was started when a group of high school students attending a leadership forum were asked to come up with a solution to the biggest problem that faced young people in their day. They chose encouragement.
We too can choose encouragement. We all need hope. Now more than ever.
So look around today. Who could you surprise with a kind word, a few moments of listening, a smile, a card? Maybe it will be choosing not to have the last word in a discussion or taking the closest parking spot. Perhaps spending a longer time in prayer for people stirring in our hearts. Notice what others are doing and compliment them. Speak life-affirming words.
Remember one kind word of encouragement can changed someone's day and even their lives.
Be an encourager today and every day.