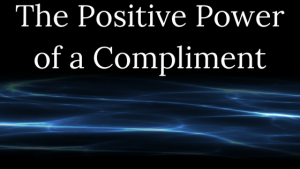 The positive power of a compliment can lift moods, bring a smile and even change a life. When someone says something nice to you about you doesn't that compliment light up your spirit and soothe your soul?
January 24 is National Compliment Day. I had never heard of this holiday and think we need more than one day to say something nice about someone else, but at least for one day, we can focus on passing on a kind words.
National Compliment Day
Give a compliment and intentionally spread even more on National Compliment Day on January 24.
A compliment is a positive and powerful encouragement. Kind words infuse confidence in a child and inspiration in adults. When we compliment another, they feel like someone notices them and feels accepted by them – a basic human need for us. And amazingly enough, even a small compliment goes a long way.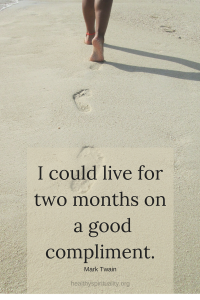 National Compliment Day began in 1998 – so this year marks its 20th anniversary. Hey, that's a good idea and goal.  Between now and through January 24 – let's try for each of us to pass along 20 compliments in honor of their 20 years!
The purpose of this holiday is to say something nice to your friends, family, and co-workers. After all, giving out compliments not only makes the receiver happy and helps build up trust between that person and you. Studies show that giving out compliments has a beneficial effect on the person giving out the compliment too. In other words, give out a compliment and you may make yourself happy as well.
The Positive Power of a Compliment
Too often we underestimate the power of a touch, a smile, a kind word, a listening ear, an honest compliment, or the smallest act of caring, all of which have the potential to turn a life around.
Leo Buscaglia
According to psychologists, compliments are very powerful. Probably much more than you would think they are. Compliments:
Motivate people.
Increase happiness.
Create a positive environment.
Convey respect, admiration, approval, gratitude and hope.
The Art of a Compliment  is an interesting article.
A study by Japanese scientists asked the test subjects to learn and perform specific finger exercises on a keyboard as fast as possible.  The subjects were separated into three groups.
One group received individual compliments from an evaluator.  A second group watched another participant receive compliments, and the third evaluated their own performance on a graph.
When the participants returned to perform the exercise sequence a day later, those who had been complimented performed significantly better than either of the other two groups.  They discovered when receiving a compliment, the brain is activated in the same region as when someone received money. Compliments are as powerful as cash.
Ideas for Compliments
Here are some ideas to practice passing on a compliment:
Intentionally seek an opportunity to compliment someone.
Be genuine. People have a way of knowing when we are fake. If you don't mean it, it's worse than getting a thoughtless birthday gift.
If you hear a compliment about someone who isn't there to hear it, pass it onto them later.
Be specific. What makes that person stand out to you. Reflect what you admire about that person.
Keep it simple. Not gushing.
If you are the recipient, receive the kind words with a thank you. It feels awkward at least for me to accept a compliment, but I am trying to be more appreciative when they come my way. I was talking to someone in church before the service this week and we were talking about some upcoming changes in our congregation. She said some very kind words about my role in all the changes and I almost missed it. I was thinking more of what I would say next than paying attention to what she was saying. Then I heard her. I paused, smiled, and said thank you. Even today I continue to smile as her words sunk deeper into my soul and warmed my heart. Savor a compliment with gratitude. This is a hard lesson for me to learn as I shared in this past post.
Don't miss an opportunity. Our Bible lessons lately have focused on the stories of Jesus calling the disciples. Last Sunday the word "immediately" repeated several times in the gospel. Life is fragile – we never know when it will be too late to say those words of love, kindness, and gratitude to someone else.
Remember people tend to do what they get noticed for. Catch someone doing good, compliment then and we reinforce the positive. The world is so negative right now – even a small compliment can change the mood in a family, work place or any environment.
Compliments not only change the person being complimented – it changes us to the better too. We begin to notice the good in others. We find the qualites we want to model.
The happiness of life is made up of minute fractions – the little, soon forgotten charities of a kiss or a smile, a kind look or heartfelt compliment.
Samuel Taylor Coleridge
The challenge this week is for each of us to intentionally compliment others. I read one idea is to put 20 pennies in your pocket or a jar and each time you pass on a good work, more the penny to another pocket or jar. Make this a family project.
Watch the results and share them here or in the Healthy Spirituality Community facebook group.
I firmly believe in small gestures: pay for their coffee, hold the door for strangers, over tip, smile or try to be kind even when you don't feel like it, pay compliments, chase the kid's runaway ball down the sidewalk and throw it back to him, try to be larger than you are— particularly when it's difficult. People do notice, people appreciate. I appreciate it when it's done to (for) me. Small gestures can be an effort, or actually go against our grain ("I'm not a big one for paying compliments…"), but the irony is that almost every time you make them, you feel better about yourself. For a moment life suddenly feels lighter, a bit more Gene Kelly dancing in the rain.
Jonathan Carroll
Let's talk about compliments. What is your favorite type of compliment to give and why? Do you prefer to compliment strangers or loved ones? Describe a time when your compliment really made someone's day. What's the best compliment anyone has ever given you? What made it special to you?