Difference Between a Vacation and a Pilgrimage
What is the difference between a vacation and a pilgrimage?
When this blog post is published I will be in Germany – visiting many of the Reformation sites in what used to be eastern Germany. Yes, we will see history, the geography, travel on a bus, walk cobbled streets, eat in open air cafes and probably drink a few German beers.  But this isn't a vacation – it is a pilgrimage.  I am not a tourist; I am a pilgrim.
Our group intentionally created a trip itinerary more like a pilgrimage than a vacation. We planned daily devotions to share as a group and decided a theme for each day based on what we were seeing. We even coordinated hymns for the daily plan. We have prayed for one another before the trip and as we get to know each other better I am sure the prayers will deepen. Our sense of community had already intensified through the Spirit before we meet in person.
This process made me think about all the gifts and insights that come from the changing our mindset that "this is just a vacation" to fostering a spirit of pilgrimage which deepens the experience.
Here are some rambling thoughts about the difference between a vacation and a pilgrimage to consider:
On a pilgrimage, the intention is to be open to God and allow the experience to transform you. It is not about the destination(s), as either a vacation or pilgrimage can explore an historic site or sacred spot – it is about the journey within.
And please don't take me wrong: there is nothing bad about taking vacations. Vacation renews us, connect us with others and brings learning and joy into our lives. Transforming an excursion into a pilgrimage offers a deeper level. Take a trip with God and see what he will teach us!
"If we truly want to know the secret of soulful travel, we need to believe that there is something sacred waiting to be discovered in virtually every journey."
Phil Cousineau
What is the difference between a tourist and a pilgrim?
The word tourist comes from the word tourner, meaning to encircle something. I also read that the word "tourist" comes from the French word meaning tower as to suggest viewing things from a safe distance, detached, uninvolved.
A pilgrim goes deeper, not just staying on the outside encircling the location we visit. The word for pilgrim comes from the Latin per agri, meaning "through the fields" adding meaning to the word as in engagement, walking beyond the boundaries of ordinary life with a purpose in mind and perhaps even going out of one's comfort zone.
Often when you see a gaggle of tourists they are impatient and hurried. They push in front, trying to snap off a few quick photos so they can get to the gift shop and head to another destination to check-off on their "to-see list."
Pilgrims, on the other hand, linger. On my first pilgrimage to Germany in 2006, I observed our group leader creating time to sit and pray in the various sacred spots. She breathed in the moment. She listened. She was still. For her at that time and place, there wasn't anything else as important.  She was present to the Presence.
"A pilgrim is a wandering with a purpose."
The Peace Pilgrim
What we seek as a pilgrim is different from a tourist.
The driving force for every pilgrimage, no matter the destination, is a desire to be with God. To know God. To grow closer to him. To see him in a new way. To hear what he is teaching us in that space and time and season.
Pilgrimage awakens the spirit within us, renews our faith, and opens us up to the grace and peace of the Holy Spirit.
We enter into a pilgrimage not just to see the world, but to be transformed by God.
"True pilgrimage changes lives whether we go halfway around the world or out to your own back yard."
Martin Palmer
On a pilgrimage, time is given for prayer, worship and reflection. We let go of our normal routine and busyness to spend time with God. We find Life in new ways. A friend recently shared with me that she knew on her last pilgrimage she need to let go of past burdens and her ego. As a pilgrim, her primary motive was to feel the release of catharsis. At first she was disappointed when liberation didn't come on her timetable, but danced with joy when God surprised her in unexpected ways at the end of the trip.
My purpose for this trip to Germany is to deepen my Lutheran roots, to walk with God on holy ground, and to renew my spirit.
I also want to connect more with my fellow pilgrims – stretching this introvert out of her comfort zone. Previously I tend to hid in the back of bus, nose in my journal or books or behind a camera.  I want to be more attentive to others. See who God brings to me, where I feel he is nudging me to reach out and build bonds by interacting with others.
"What matters most on a journey is how deeply you see, how attentive you hear, how richly the encounters are felt in your heart and soul."
Phil Cousineau
And finally pilgrimages often offer something to each soul, something that is to be gained or given to another. I seek a symbol of something to bring home with me representing how I was changed. Maybe even leave something behind that I no longer want to carry in my heart.
Pilgrims are poets who create by taking journeys.
Richard R. Niebuhr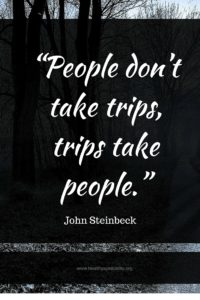 We travel not to escape life, but for life not to escape us.
Anonymous
Have you even been on a pilgrimage? What differences did you experience? What do you think are some differences between a vacation and a pilgrimage?