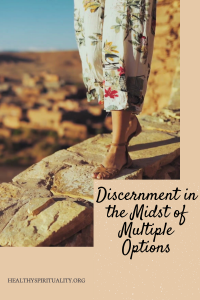 Discernment is difficult, especially in a time with multiple options. Choosing what to do or where to go next is like finding just the right cereal in the grocery store breakfast aisle. Lots of great tasting choices and many healthy selections.
Me? I want a clear, easy, quick decision. I want God to flip on the directional sign from heaven showing me where to go. Just tell me, Lord.
The discernment road isn't always smooth. The path shrouds in fog and we get weighted down in mud as we slough through a decision. Sometimes it's our fault. Sometimes it's an act of obedience to keep moving forward building our spiritual muscles. Sometimes I hear God plainly and other times, struggle to hear my own voice.
Discernment isn't easy.
To discern mean more than to understand or to make a decision. Dis mans apart and cernere mean to separate. Thus from all the options before us we 'separate apart' those that seen uniquely suited to us. We do that when making a decision as well but discernment implies that we take God's will for us into account rather than simply our own desires.
Debra Farrington
I took this photo of a local intersection a couple of years ago and wrote about discernment on this blog.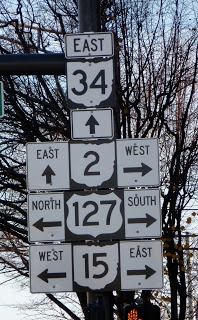 Here is a snippet of that post:
"East is still east and west is still west in my county, Here Ohio 15 runs north and south for the last 80 years, but that is not what the sign signifies.
In their wisdom of seeing the whole picture, the Ohio Department of Transportation replaced the road sign recently, striving for consistency throughout the state. State Route 15 is designated in Ohio an east-west route even though you travel north and south here.
Confused yet?
Look at all these signs as a whole – East goes in three different directions. You can travel both south and east at the same time. What a mess.
Spiritually, don't you just want a sign sometime?
The world shows me puzzling and often misleading notices on how I should live. I want God to say out loud and very clearly, 'Go this way.'
The road of life we travel is full of detours, construction, and definitely baffling messages. My only clear map is God who sees the whole trip."
I struggled a few weeks ago with discernment that I sincerely wanted God to tell me what to do.  No options. No decision. Just the right next step.
I have had that experience in the past. Facing a decision, I came to God and after being with God I knew what I had to do. Peace led the way.
But the dilemma I faced in September lingered with no clear answer. It was like God invited me to grow through the struggle with the options more than the final answer of which direction to go.
A writer friend expressed to me that she needed to talk about discernment her writing journey. She is a deep person of faith and after much journaling, listening to God, and studying the writing craft, she asked God what genre/topic is God calling her to write?  She said God told her to choose.
What? Our decision? No divine guidance so we knew for sure what steps to take? Both my writer friend and I faced the same ambiguous answer.
I love Thomas Merton's most famous prayer and its words became my words last month:
My Lord God, I have no idea where I am going. I do not see the road ahead of me. I cannot know for certain where it will end. Nor do I really know myself, and that I think I am following your will does not mean I am actually doing so.
But I believe the desire to please you does in fact please you. And I hope I have that desire in all I am doing. I hope I will never do anything apart from that desire. And I know if I do this you will lead me by the right road though I may know nothing about it. I will trust you always though I may seem to be lost and in the shadow of death. I will not fear, for you will never leave me to face my perils alone.
What have I learned in this wrestling with discernment?
God listens and is willing to give us freedom to choose at some points of our journey. He invites us closer – to be with him and be in relationship with him. Sometimes the details of our lives take care of themselves in his light. God cares enough to allow us to explore and to make mistakes and he stays with us no matter where we journey.
I need to be honest with God. With myself. I spend the time trying to find the right words and naming the options I feel are before me. I ask God what am I missing? What am I really hungering for? I name my fear, my resistance. Heal my blindness, deafness and hardness of heart, Lord.
Sometimes the answer is right in front of us. In stillness and silence, what does my heart tell me? Deep down what do I sense is the right step?
What does this struggle make possible? How is God calling me to grow and to learn during discernment?
To be honest, I am still not sure if I chose the most loving option last month, but know God still listening as I discern that whole experience with him.
Being with God is the best discernment and wisest option.
What has helped you through an unclear discernment process with uncertain options?