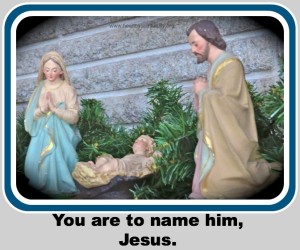 "Now the birth of Jesus the Messiah took place in this way.
When his mother Mary had been engaged to Joseph, but before they lived together, she was found to be with child from the Holy Spirit.
Her husband Joseph, being a righteous man and unwilling to expose her to public disgrace, planned to dismiss her quietly.
But just when he had resolved to do this, an angel of the Lord appeared to him in a dream an said,
'Joseph, son of David, do not be afraid to take Mary as your wife, for the child conceived in her is from the Holy Spirit.
She will bear a son, and you are to name him Jesus…'
When Joseph awoke from sleep he did as the angel of the Lord commend him."
Matthew 1: 18-21, 24
Joseph did the right thing.
Lord, that isn't always easy or popular.
Joseph sounds like a thoughtful, godly man -one who considered options thoroughly before preceding, like planning a project in his carpenter shop.
Joseph made a decision but waited before taking action. Did he pray, Lord? Did he talk it over with you? Did the Holy Spirit urge him to pause?
I want to do the right things for you, too.
Joseph shows me, Lord, lessons in discernment. 
To explore options.
To contemplate actions.
To talk you where I think you are leading.
To listen in time of silence when my ego sleeps.
To come to you and ask for affirmation and guidance.
And be willing to let go and change directions as you direct .
Doing the right thing is often uncomfortable and tough.
I feel vulnerable, exposed by the risk of going against my ego and the world.
But I have been thinking about Joseph, Lord, and his story shows me that with you, I will find the strength and courage to go on.
 With you, I will see your light to take the next step on a unknown dark path.
Lord I trust you knowing you already paid the cost
With you, Lord, I can do the right thing right.