"Do to others as you would have them do to you."
Luke 6: 31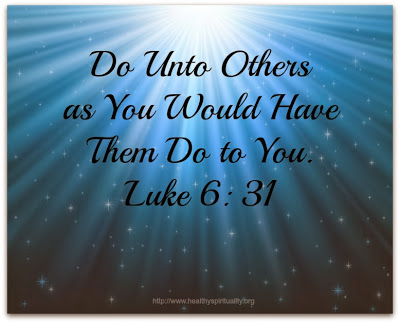 Do unto others.
Do unto others.
Lord, this is one of the first lessons I learned from my mother.
And know once again I hear these words from you – the Golden Rule.
You, Lord, who model this way of living.
You notice those on the margins.
You touch the untouchables.
You reach out to those full of fear.
You heal the sick.
You feed the hungry.
You wrap your arms around little children.
You defend the poor.
You mend the brokenhearted.
You answer your critics.
You forgive all of us.
You love the unlovable.
Thank you for noticing, touching, reaching out, healing, feeding, hugging, defending, mending answering, forgiving and loving me.
Lord, help me treat others who cross my path as you would.
Break open the eyes of my heart to spot the ones who need you the most.
May I do unto others as you would, as I would want them to treat me.
You showed us the way though your astonishing love – may I pass your compassion and mercy onto others.
What do these well known words stir up in your heart? Where do you struggle putting them into practice?