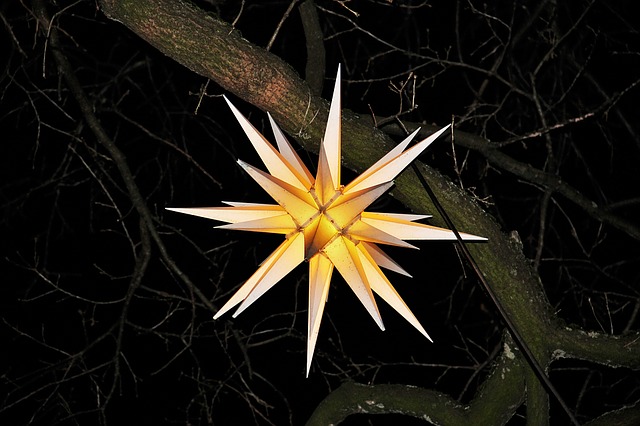 The Moravian Star? You've seen one. I've seen them. But do you know the meaning about this Advent Star? I didn't know its name and learning its story revealed a new tradition I am adding to enrich my holiday season.
What is the Moravian Star?
You will recognize the Moravian star when you see it. I did too, but didn't know that this type of star had a special name and story.
While we may decorate with stars on our trees and mantels at Christmas time, the Moravian star is unique in having usually 26 points and is multidimensional. The number of star points can range from 6 to more than 100.
The Moravian Star represents the greatness of God, creator of the universe, the star that led the Wise Men to Bethlehem to worship the newborn king and the star of David, the Messiah, Christ.
The Moravian star is often made from paper and is illuminated so it shines from within. Usually white or yellow, the star has been made in all the colors in more recent times.
What is the Story of the Moravian Star?
The Moravian Church originated in Bohemia and Moravia in the latter part of the 14th century. Many of the believers were persecuted due to their beliefs until 1722 when Count Zinzendorf allowed them to settle in his territory.
It was here in this area of the world in the mid 1800's when a math teacher at one of the local schools developed an art project for the students where they would use paper and glue to make a star-shaped polyhedron by attaching tall pyramids to a multifaceted geometrical solid. This challenging math lesson yielded beautiful star shapes, which the students used as lanterns for Christmas decorations.
The standard Moravian Star had 26 points made up of 18 squares and 8 triangular cones connected to a sphere. Here is a great trivia nugget to impress your friends: This shape is called a rhombicuboctahedron, a $50 math term. The geometry enters in since it is a combination of squares and triangles to make a sphere.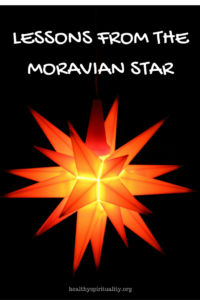 How You Can Use the Moravian Star
The Moravian Star traditionally is hung in windows and on trees on the first Sunday of Advent until Epiphany January 6th. Advent is the time of darkness as we wait the Light of the world to be born. The star lights our way to the newborn king.
Following current home décor trends, you can see Moravian Stars now appearing in entrance ways as chandeliers. Just do a search on Pinterest and you will discover all sorts of uses for decorating with this star all year long.
I discovered this You Tube video from Germany exploring the star. If you are reading this by email, just go the Healthy Spirituality blog to watch the four-minute overview.
If we keep our eyes open and pay attention with our hearts, we, "old dogs" can learn new tricks. Discovering a new way to see the Christmas story – like through the meaning of a star – refreshes my spirit and prepares my heart for this special time of year.
What new have you noticed or learned this season?
I created a free Advent Resource guide. You can download it here: https://healthyspirituality.org/advent
And you may be interested in my Christmas book, Christmas Seasonings, 101 Quotes and Prayers to Flavor the Holiday. And I would love, if you read it, to leave a review.
Thanks so much.