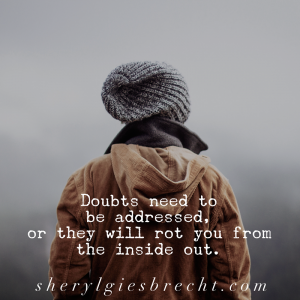 Doubt. Since we are exploring prayer this year on Healthy Spirituality, room needs to be made for times of doubt and unanswered prayer. How do we keep praying in time of waiting and indecision? Where is God when we don't experience him or hear his voice?
Sheryl Giesbrecht shares her story and strategies for difficult times like these in her new book "It'll be Okay: Finding God when Doubt Hides the Truth." During her dark times, she would keep telling herself, "It'll be okay."  She writes she wasn't sure what "it" was, but this phrase kept her on the search for God in her foggy times.
I think we all can identify with experiences of doubt and uncertainty. It'll Be Okay is a new book what can help us through these difficult times.
"Frequent flyers know what it is like to trust an airplane pilot to land a plane in zero visibility. To me, that's what it is like to trust God when you can't "see, hear, or feel" him. Pilots trust their radar and depend on their landing gear, and likewise, we must learn how to trust God's heart when we can't see his hand. At the time, I didn't know how much more to my walk with him I had yet to experience, learned only by walking though the zero visibility of the fog of doubt. Doubts need to be addressed, or they will rot your faith from the inside out. Be honest with God and yourself. Dealing with doubt to the point of renewed belief brings spiritual strength. Don't be afraid to doubt."
One aspect of this book I really like is Sheryl's vulnerability of sharing her own story along with stories from the Bible and other Christians. Chapter one starts right off with the example of Mother Theresa and her many years of not experiencing God while maintaining her own faith so deeply that many other people were blessed by her.
She sums the lessons from Mother Theresa so well in a Frederick Buechner quote that impacted me. I recorded in my journal for further pondering:
 "Faith is a way of waiting—never quite knowing, never quite hearing or seeing, because in the darkness we are all but a little lost. There is doubt hard on the heels of every belief, fear hard on the heels of every hope, and many holy things lie in ruins because the world has ruined them and we have ruined them. But faith waits even so, delivered at least from that final despair which gives up waiting altogether because it sees nothing left worth waiting for."
Sheryl also explores deeply the different aspects of doubt:
"It's interesting to consider that "doubt" comes from the Greek word distazo—from dis meaning "twice" or "double." Doubt happens when we double-think a concept or an idea, or re-entertain a thought. It's something like second thoughts. Further, the word "dubious" comes from Latin duitare or dubius from which we get "dubious"—questionable. One of the most important things to understand is that there are two different aspects of doubt: 1. Unbelief, disbelief, rejection, denial, agnosticism, faithlessness. 2. Uncertainty, lack of confidence, reservation, problematic, misgivings, skeptical, questioning, wavering, indeterminate."
This book reminded me that both faith and doubt are part of the process of learning we have in this adventure of life. To be honest with God about our confusion, not to hide them but to express them, wrestle with them and use them to cultivate a deeper walk with God, gives me hope for the dark times.
"We can doubt our doubts without having to live a doubting way of life. Doubt encourages rethinking. Its purpose is more to sharpen the mind than to change it. Doubt can be used to pose the question, get an answer, and push for a decision. But doubt was never meant to be a permanent condition. Doubt is one foot lifted, poised to step forward or backward. There is no motion until the foot comes down. The decision is a commitment to trust God no matter what life brings our way, accepting that in both good and bad circumstances, God knows what's best for us."
A book of hope. A book of deepening faith. A book well worth reading.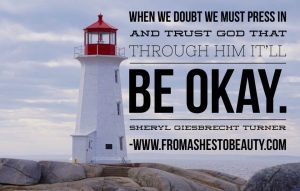 One of my favorite prayers from the Bible is from Mark 9: 24: "I do believe. Help my unbelief" – a great prayer for foggy times.
One lesson doubt has taught me is as I grow older and experience more of the ups and downs in life, the up's do return and faith grows in the darkness. God is with us even when we don't hear him, touch him, experience him. He is faithful when our faith isn't full.
What have times of doubt taught you? What are you reading right now?