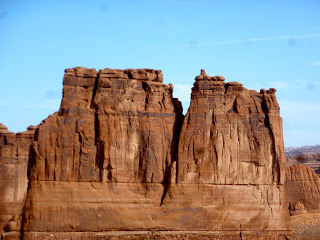 Take a good look at God's wonders—
   
 they'll take your breath away.

He converted sea to dry land;
    
travelers crossed the river on foot.
 
Now isn't that cause for a song?
Psalm 66: 5-6 (The Message)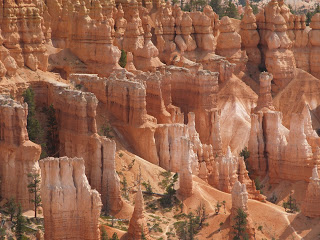 Lord, my heart does sing this week.
My music speaks of thankfulness for a wonderful vacation.
My memory overflows with pictures of the beauty of Your creative artistry found in our national parks.
The words of this week's psalm roll from my spirit upward in wonder and gratitude.
Southern Utah is dry land, Lord, once covered by deep seas and creatures that no longer roam.
We could see each era in the colorful strata of rocky layers.

You must love rocks, Lord.
You seemed to play with them, juggled them with glee as You stacked them on top of each other in patterns that defy any human reasoning.

My mind visualized You bowling the boulders into deep canyons filled with divinely made bowling pins.

I can see You sculpting clay into innovative shapes that humans will later think they see shapes of animals, bridges and birds.

You seemed to stamp each time period with unique colors, distinctive material and unparalleled rareness.
Lord, You deal with dry land, pebbles, and brown earth with such care.

The Lord God dwells in this level of attention on details of simple rocks; how much more does He care for us?
How magnificent is God's ingenuity and delight in forming humans. 
The rocks tell us so and my heart bursts in thankfulness.

Now isn't that cause for a song?