On retreat this summer the leader told us about one of St John of the Cross's prayers:
That prayer has lingered with me and invited me to think about insignificance as a spiritual discipline. 
I am a three on the Enneagram and if you know anything about that personality, I thrive on achievement. Accomplishment is my motivator whether it is crossing things off my to-do list, obtaining goals and diving into items on my bucket list.  I am driven to make a difference, to be remembered, and to leave a lasting legacy.
I "do" "do" well.  Just "being" is a lifelong struggle for me.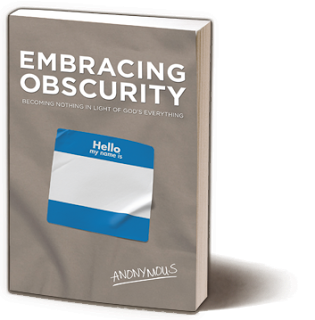 Imagine then my astonishment at a book titled: Embracing Obscurity – Becoming Nothing in Light of God's Everything.  When I had a chance to read this advance copy of this new book published by B & H Publishing, I took the opportunity. God was certainly getting my attention with this topic.
And get this: the author is "anonymous." Isn't that different? The book tells us this is a well-known author who chose not to take credit, glory or compliments for the book. 
Embracing Obscurityaddresses pride and the so well known we accepted it as a norm arrogance of the culture we live in. But since we are to live a life modeled after Christ we are called to Embrace Obscurity. "Words that describe the disposition of the Christ we see in the Scripture: humble, thankful, righteous, a servant – His only ambition to submit to His Father's will He was consumed with loving God and those around Him."
This book will challenge you to a life counter culture to today's world; a world where reality shows makes some bodies out of nobodies. The book challenges the norm and made me little uncomfortable at times with my cultural beliefs. The noise of the world and its shallow values,  traps us so easily and taking the time to reassess, helps us rediscover God's path for us.
I appreciated this book because of its honest and real conversational style and its emphasis on Scriptures and teaching. I like a book that makes me think in new ways and expands my mind.
The great discussion questions at the end of each chapter would be ideal for a small group study. Even within chapters, questions are raised and explored: What is your subtitle? What is our true success in life?
"When we accept that out value is no dependent on what we do or accomplish, we are – ironically – liberated to do much for Christ."
When we stop imitating the world and instead choose to embrace obscurity, real life — chock full of significance, purpose, and renewed passion — begins.
What do you think about this topic?
Disclosure of Material Connection: I received Embracing Obscurity  for free in the hope that I would mention it on my blog. Regardless, I only recommend products or services I use personally and believe will be good for my readers. I am disclosing this in accordance with the Federal Trade Commission's 

16 CFR, Part 255

: "Guides Concerning the Use of Endorsements and Testimonials in Advertising."