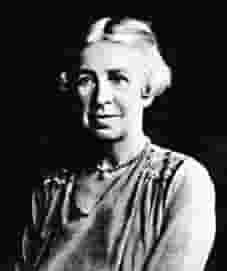 Evelyn Underhill is my first lamplighter for 2023. I heard the term Lamplighters from wisdom teacher mystic Cynthia Bourgeault who described the spiritual teachers in her life – both ancient and contemporary – as lamplighters, those lighting the way for her path.
Each year I walk with a lamplighter and intentionally read and listen to their stories. So much wisdom and applications emerge that nourish my soul.
Several key lamplighters are always around – Henri Nouwen, for example but each year a new one joins me for a walk. I never know how long they will accompany me but I try to take full advantage of their presence while they hang around.
Evelyn Underhill's Story
Evelyn was born in 1875 in England and was a prolific and successful writer (39 books!) and poet in the early twentieth century. Living what we might think as an ordinary life she was an attorney's wife, gardener, hostess and cat-lover. She was interested in history, botany, travel, and bookbinding. But she had a deep passion for guiding others into the mystery and love of God and insisted that all people could experience God as a mystic. Acknowledging the mystics were great pioneering souls, she maintained that every person was on a spectrum with them because each was born with a capacity for God. Given this, the ordinary person could benefit from learning of the mystic life.
In 1921, Underhill became a practicing member of the Church of England. Though she resonated with Catholic spirituality, often worshipping in Catholic churches, she stayed an Anglican her entire life. In 1931 she declared, "The Lord has put me here, keeps on giving me more and more jobs to do for souls here, and has never given me orders to move."
A lay woman without formal theological training, she offered retreats and served as a spiritual director. She was the first woman to guide a retreat in Canterbury Cathedral and the first to offer retreats for male clergy. These were actions unheard of in the 1920s.
Her best-known book is Practical Mysticism which she wrote early in her life.  Through another important book, Mysticism (1911), she made the acquaintance of Baron Friedrich von Hugel to whom "under God, " she wrote, "I owe…my whole spiritual life." Ten years later she formally put herself under his spiritual direction and she remained his pupil until his in 1925. She continued to study, lead retreats, and learn to live as a mystic until she died in 1941.   
Quotes to Ponder
"What, then, is Prayer? In a most general sense, it is the intercourse of our little human souls with God. Therefore it includes all the work done by God Himself through, in, and with souls which are self-given to Him in prayer. Prayer, then, is a purely spiritual activity; and its real doer is God Himself, the one inciter and mover of our souls."
"A real man or woman of prayer, then, should be a live wire, a link between God's grace and the world that needs it. In so far as you have given your lives to God, you have offered yourselves, without conditions, as transmitters of His saving and enabling love: and the will and love, the emotional drive, which you thus consecrate to God's purposes, can actually do work on supernatural levels for those for whom you are called upon to pray."
"We mostly spend our lives conjugating three verbs: to Want, to Have, and to Do. Craving, clutching, and fussing on the material, political, social, emotional, intellectual—even on the religious—plane, we are kept in perpetual unrest: forgetting that none of these verbs have any ultimate significance, except so far as they are transcended by and included in, the fundamental verb, to Be: and that Being, not wanting, having and doing, is the essence of a spiritual life."
"If God were small enough to be understood, He would not be big enough to be worshipped."
"For a lack of attention a thousand forms of loveliness elude us everyday"
"Adoration is caring for God above all else."
I am not done with walking with Evelyn yet or should I say she isn't done with me yet. What a joy to peek into someone's life and listen to her wisdom and how she grew over the year.
Anyone else learning from Evelyn Underhill?  Who is accompanying you this year?