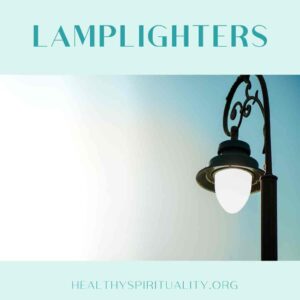 I heard the term Lamplighters from wisdom teacher mystic Cynthia Bourgeault who described the spiritual teachers in her life – both ancient and contemporary – as lamplighters, those lighting the way for her path.
I love this word and have learned like electric wires bringing light into my soul, I too have lamplighters, even a few high-tension ones that boost my spirit beyond the ordinary. Highly charged lamplighters for me are Henri Nouwen, Teresa of Avilla, and Barbara Brown Taylor.
In 2003 in my first class to become a spiritual director, they encouraged us to choose (or did that person choose us?) one person to "walk" with for the next three years. We would read about that person, their story, and their spiritual journey. How did faith shape their life? How did they discern which way to go? What worked and what didn't?  We read what others wrote about that person and if they left writings, dug deep into their words. We presented, discussed, and wrote reflection papers about our spiritual mentor. Their story became ingrained into our story.
Since then, I have spent time with various lamplighters. Occasionally I have "adopted" one for a a year. Teresa of Avila, the author of the Cloud of the Unknowing, and the Desert Mothers and Fathers were more in-depth partners for a longer period of time.
But who this year appeared? At first, I didn't know and just kept listening and watching. I would pick up some of my favorite books. Share a quote from a wise one. Notice whose writing made me pause and ponder, maybe taking my breath away.
One morning a few weeks ago I realized I was surrounded by Henri Nouwen. I have many of his books. I repeat his words of wisdom often in this blog and in my sermons. His presence drenched the walls of my office. So obvious yet unseen by my heart.
Henri Nouwen is my lamplighter for 2022. I am rereading his words. Journaling my inward journey with him. Asking him to come along with me in my upcoming silent retreat. Asking God for insight to what he wants me to learn from Henri.
Naming and studying lamplighters is a powerful spiritual practice that nourishes the mind, the heart and the soul. What surprised me this year is rediscovering this old friend and sitting once again with Henri, listening and learning.
What about you? Who have been your lamplighters?