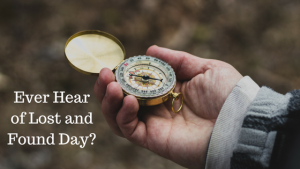 Lost? The second Friday in December is National Lost and Found Day. Ever hear of this holiday before?  I certainly hadn't, but the idea invited me to consider how being lost and found weaves throughout my life experiences.
Lost and Found Day
Lost and Found Day encourages us to return any items that we may have found during the past year to the people who have lost them. The official Lost and Found Day is a day for renewed hope and belief that lost items should never be forgotten or abandoned to lost and found limbo. A time to try to find any personal belongings which we have lost and put an end to the frustration of having to go without something we need.
Celebrated first in 2012, this fun day is an unofficial holiday that reminds people to not give up on the things they have lost and to increase their efforts to find them.
I read one survey that reported that one in five of us loses or misplaces personal items every week. Car keys are the number one item lost and cell phones are number two. Twenty-eight percent say they search for less than a week before accepting the item as gone forever. We spend ten minutes every day rummaging for lost items, from books and phones to car keys and even the cars themselves, one survey found. One study showed we spend a total of 3,680 hours or 153 days is spent searching for stuff, over our lifetimes.
Humans spend a lot of time diving into the lost and found box of the world.
God Seeks the Lost
Remember God never quits seeking the lost. He is the Ultimate Pursuer.
Luke 15 is the Lost and Found Department of the Bible. In this chapter we read about the parable of the lost sheep.
One of Jesus' most beloved and well-known parable is about the Lost Son is also found in Luke 15.
Luke 15 gives the verses about the lost coin:
"Or imagine a woman who has ten coins and loses one. Won't she light a lamp and scour the house, looking in every nook and cranny until she finds it? And when she finds it you can be sure she'll call her friends and neighbors: 'Celebrate with me! I found my lost coin!' Count on it—that's the kind of party God's angels throw every time one lost soul turns to God."
The Message
What grace that God continues to seek the lost and never quits. His relentless love leads to much rejoicing!
Spiritual Lost and Found
Thinking about the reality of lost and found in my life reminded me of a prayer and a book.
I am not Catholic, so didn't grow up knowing the saints in our mutual Christian history and have loved learning their stories.  St Anthony is known as the saint of lost items, even having a prayer to say when you can't find something.
Tony, Tony, look around.
Something's lost that must be found.
Our family has enjoyed asking St Anthony for help in lost times. When faced with the frustration of not finding what we are looking for, I am willing to ask for all sorts of help.
This discussion brought a book to mind that I hadn't looked at for quite a while: Inner Compass by Margaret Silf.  The book introduces the spiritual exercise by St Ignatius of Loyola and helps us find solid ground in discernment, prayer and reflective living. Chapters include "Where Am I", "To See You More Clearly" and "To Follow You More Nearly."  All topics that give us guidance in times we feel lost.
We all need an inner compass, especially in times of being lost. I plan to reread this book over the holidays and reset my inner compass for the year ahead.
How will you celebrate Lost and Found Day? Take a moment to think about the times you have been lost and the found. Every single one of us has those times of feeling lost.
But we can be assured that God is with us, continues to seek us and never gives up until we are found. I will be thankful God loves us whether lost or found. This day gives me hope.
The gifts of hope, grace, and love fill the missing pieces of that I have lost in life. We may misplace what we think are our treasures, like car keys and cell phones, when in reality God never abandons us. He promises that the lost will be found and that is a great reason to celebrate Lost and Found Day.
What stirs in your heart when you think about being lost and found?