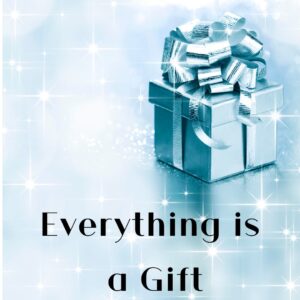 "Everything is a gift—one hundred percent pure gift. The reason any of us woke up this morning had very little to do with us and everything to do with God. All twenty-four hours today are total gift. And so, the only real prayer is to say "Thank you!" and to keep saying it. When our prayer is constantly "Thank you," and we know we deserve nothing, and that everything is a gift, we stop counting. Only when we stop counting and figuring out what we deserve, will we move from the world of merit into the wonderful world of grace. And in the world of grace, everything is free."
These words were written by Richard Rohr in one of his weekly newsletters. What a great reminder and wisdom worth embracing into our lives. Everything is a gift.
We are fast approaching the present-giving season. Advent begins November 28 and our church's Advent theme this year is the Gifts of Advent. We are sharing scripture, messages, and prayer about the gifts of hope, patience, silence and speech, and family. All priceless gifts from God.
Advent is a great time to pause, listen to God, and draw closer to the Creator and Gifter of all things. Many people chose to read a special Advent book during this season, and I will humbly mention Christmas Crossroads – 30 Devotionals for the Advent Season that I wrote a couple of years ago. 
The word "gift" is guiding me this Advent. I am paying attention to ordinary surprises found each day. I am noticing the gifts found in the Christmas story from the scriptures.  Gifts emerge from my readings or simply from gazing out the window.
I walked two miles the other morning and later thanked God that now I walk without pain. I listened to friends share stories and laughter around the restaurant table – we were full and contented with food and fellowship. I smile at the return of my frisky speckled sparrows discovering the now full bird feeder just outside my office.
I admit to God my failure to appreciate all his gifts – ones I don't recognized, ones that don't appear as gifts, and ones hidden in the ordinary stuff of life. My eyes are often blocked by ego, tears, fears, and pains. So I am thankful for his mercy and forgiveness. I pause and realign my heart towards this almighty compassionate God and simply say, "Thank you. It's all a gift."
What have you noticed lately to thank God for?