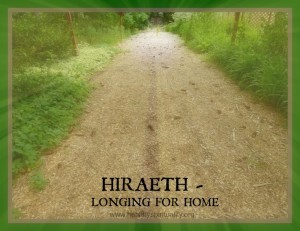 I expanded my vocabulary last week and learned a new Celtic word – HIRAETH.
Ever hear of it?
Even if you haven't I bet you have experienced it.
The web site, Innerwoven, presented a five part series explaining this Celtic word. I encourage you to go there and read all of its wise and thought provoking words.
Hiraeth is actually a Welsh word that basically means longing or homesickness.
Robert Rife writes:
"It might be defined as a longing, a homesickness for a home to which one can never return. It is the unrequited hope that produces ever more unanswered longing. It is a grieving for the lost places and moments of one's past – a sense of loss for loving moments and places, fondly remembered. It sits in the dream world where longing, belonging, home, and wanderlust meet."
A few years ago my hubby and I discussed where we wanted to spend our rest of our lives. We just retired and the world was open to the next chapter in our lives. This small rural town I lived in for more than 30 years now – the longest place I have spent in my entire life – still didn't feel quite like home.
I am not sure anyplace in earth provides that sense of comfort. I long for heaven – to return where I originally came from. To be with God.
Hiraeth is this deep longing for home.
Hiraeth is that distant voice calling you someplace else. That tug that draws you onward, searching for some unnamed consolation. A restlessness or hunger that can't be satisfied.
"Longing is the deepest and most ancient voice
in the human soul"
John O'Donohue, Eternal Echoes
I like the metaphor that life is a journey. Now I have a word to accompany me in my travel to help explain the yearning for More. The Great Pursuer draws us into His arms, calling our names. And God does know our names.
Home is hiraeth and found only in God.
How do you describe your longing for God?