I do not understand what I do. For what I want to do I do not do, but what I hate I do. And if I do what I do not want to do, I agree that the law is good.
As it is, it is no longer I myself who do it, but it is sin living in me. For I know that good itself does not dwell in me, that is, in my sinful nature.
For I have the desire to do what is good, but I cannot carry it out. Romans 7:15-18 (NIV)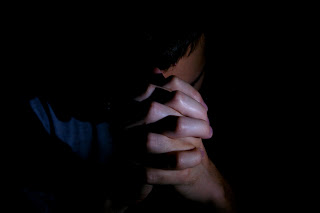 For I have the desire to do what is good, but I cannot carry it out
Lord I failed you this week.
The growing gnawing in my stomach told me something was not right.
Then without warning, someone noticed my little indiscretion, asked about it and wow, a glaring spotlight on my hidden sin.
I am sorry.
I am wrong.
I will make it right.
Why is it that I thought as long as I didn't get caught, my misconduct could slip by unnoticed?
I am so ashamed to admit I probably would have continued down that dark path if someone hadn't detected and mentioned my action.
I really do want to do what is right in Your eyes, but like a kid sneaking a cookie, I think my tip-toeing foolishness will harm no one.
But it does hurt others.
And my sin blocks my path to You.
I cannot do it on my own.
I need Your spirit to strengthen and guide me.
I am grateful this morning Lord, for embarrassment of being caught.
My discomfort brought me home to You, my Comforter.