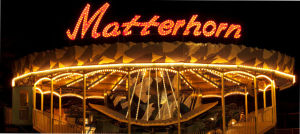 I fell with grace last week. Literally.
We visited Cedar Point for a great family weekend plus I attended Bloggy Con, a wonderful conference for bloggers. You can't beat the combination than having fun with my family while learning and gathering new ideas too. By the way for any bloggers reading this post, they are repeating the conference at Cedar Point next year and you really should think about attending. Quite a bargain!
Saturday evening my five-year-old granddaughter and I hit the rides appropriate for our ages while my daughter, Kyla's mom, and my crazy for roller coasters hubby hit the wild, high, monstrous rides.
My favorite is the Matterhorn. We spin around, up and down at high speeds and it is a great one to giggle and grin with a five year old.
She gets on the ride. Now the car they have you sit in, tips as it spins so of course continues to tilt as you step in. Also some of the cars are already on the sloping track so you have to be careful. Or, as in my case, not be careful.  Duh!!
I stepped in.
The car tilts one way and as I, with all the elegance of a exasperated elephant, place my foot into the ride, just as it leans the other way, sending me tumbling onto the incline of the ramp.
Now, mind you, this was like slow motion and thankfully only hurting my ego. And of course, this all happened right in front of a huge line of people waiting to enter the ride. I put on quite the stumbling show to entertain them.   Ta-Da!!
The attendant rushed up to me asking if I was all right and I said yes, just embarrassed.
"Well, I must say, that fall was full of grace," he said kindly.
Full of grace.
His caring words ease my embarrassment and helped me enjoy the eventual ride.
Don't we all live each day falling with grace?
We made mistakes.
We say things we know we shouldn't.
We fail to reach out to others.
We know what is right but find excuses drawing us away from doing what is the better, more caring option.
The circumstances tip and throw us off balance.
Our lives list on steep inclines.
Our thoughts tilt causing our perspective to shift from a steadfast God to wobbly world.
And once again we fall. But thankfully God is there to catch us, help us up and cover us with grace to enjoy the ride once again.
"I do not at all understand the mystery of grace –
only that it meets us where we are,
but does not leave us where it found us."
We may fall but falling with Grace makes all the difference.
What do you think?