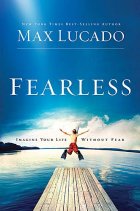 When you really listen to people, what emotion most often dwells at the surface of their difficulties? I hear fear. This is one reason why Max Lucado's newest book, Fearless, is so important for people to read and discuss. Even the subtitle gives hope: Imagine Your Life without Fear.
As a spiritual director, the fears I hear many times are not even recognized right away. In fact, some people will even deny their emotions are fear based. I know this personally since I am a regular practitioner of denying fear in my own life.
Lucado's book helps us to name the fears that drive us and exposing them to the light of God. Once we recognized and face that emotion, it is easier to let go, returning to trusting God to handle the situation.
Lucado lists fears such as fear of not mattering, of disappointing God and overwhelming challenges. His easy readable writing style pulls in the reader to identify their own circumstances, then allowing God to once again take over. He reassures us that God is enough.
The book ends with a great discussion guide that makes it perfect for a small group discussion. Thought provoking questions such as: How would your life be different if all your fears were erased? The questions also could be used in a journal for personal reflection.
Another strength in this book is its strong use of Biblical references both in the text and in the discussion guide. This continual drawing our attention back to the word of God brings hope and comfort when facing fears.
A must read!