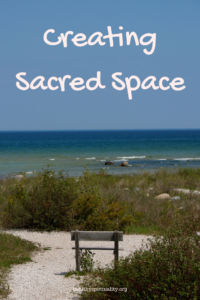 Let's start the new year with our Tending the Holy Thursdays by exploring the practice of creating sacred space.
Sacred space can be both external and internal and is a pause, place and/or position where we can find God and ourselves.
Your sacred space is where you can find yourself again and again.
 Joseph Campbell
Each month on my Thursday posts, I pick one theme (or person of faith) to explore deeper. Today we will discuss the types and why we need sacred space.  Next week external spaces will be shared and we'll end with ways to create more internal space on the last week.
As usual I wrote a free download to accompany this study, titled "10 Tips for Creating a Sacred Space at Home," with suggestions for forming a space in your home and even some blessings for your area.  You can get this PDF at no cost by clicking on the button at the end of the post. It is my hope and prayer that this series and the download will enhance your walk with God.
Be sure to sign up to get Healthy Spirituality in your inbox so you don't miss any of the weeks (I promise I never over send stuff to you). And invite your friends to this blog and share on social media.  I sure do appreciate the support in spreading God's word.
Let's discuss and ponder sacred space in our lives this month.
What is Sacred Space?
A space is usually a defined area – in our homes and environment and even in our schedules and hearts where we experience God in a deeper way. It is a place that holds meaning or become memorable and special in our life journey and spiritual growth.
A sacred space is an area dedicated to God and our faith. It can be a space for rituals, prayers, slow reading and just being with the Lord.
This special place provides insight and perspective to all the other aspects of our lives and helps us realign our calling as beloved children of God.
Sacred space can be a corner of a room, a church, a forest or garden, and even within yourself.
I think the secret to creating this special place is to actively seek it, to designate it, and then honor it with time and prayer. It is a sanctuary for quiet and renewal. A safe haven to express your deepest needs and dreams. An invitation to be ourselves as God created us to be.
Why Sacred Space?
Having a sacred space inspires, renews, and feeds our faith. Coming apart from the noisy world we find quiet and peace to hear God and our own voices.
A sacred space soothes our spirits in the shelter of the arms of God.  
[Tweet "A sacred space soothes our spirits in the shelter of the arms of God."  Jean Wise]
In our noisy world, busy schedules, and chaotic lifestyles, finding a quiet place – a sacred place – sometimes seems impossible. We long for peace, solitude, and a space to be with God. Our hearts yearn for God's intimate presence so we can hear him, be with him, know him.
We need to be intentional in today's world to seek a place apart externally and internally. In our busy lives what a blessing to have a nook to notice and connect with God.
Each morning I sit quietly in contemplative prayer in my sacred space. I close with these words:
Lord, cleanse my negative emotions that only you can remove. Take away my jealousies, pride, fear and prejudices that draw me away from you and lead me closer to you in love.
I know in the safety, peace, and structure of that spot, I can let down my defenses, my ego and my excessive internal chatter to be with God.  I hear him. I experience him. I know him.
"The place God calls you to is the place where your deep gladness and the world's deep hunger meet."
Frederick Buechner
"God Himself is called Place, for He encompasses all things, but is not encompassed by anything.
~Philo of Alexandria
"Wisdom sits in places."
~Apache proverb
"The soul isn't designed to be cluttered. It longs for space to taste beauty. To breath. It's always wanted what God intended for me…
Making room for spiritual whitespace takes us on a journey to awaken our hearts to God again."
Bonnie Gray
I love that last quote about a journey to awaken our hearts to God.  I hope this series stirs up within you a desire to create spiritual space in your life and heart for the Lord.
Don't forget I created a free download to accompany this topic called "10 Tips for Creating a Sacred Space at Home," You can get this PDF at no cost by clicking the button below.  
What do you think about creating sacred space in your life? How would it help you experience God?