So here's what I think: The best thing you can do right now is to finish what you started last year and not let those good intentions grow stale.
Your heart's been in the right place all along.
You've got what it takes to finish it up, so go to it.
Once the commitment is clear, you do what you can, not what you can't.
 2 Corinthians 8:10-11 (The Message)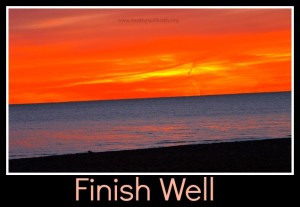 Every year, Lord, I start with a bang of enthusiasm, launching new goals and plans for the coming year. I ask you for your blessing and guidance on each year's new beginning.
But this verse in this unique translation stopped me cold.
"Finish what you started last year" shouted to my heart and shook my good intentions into the light of day.
What does this mean, Lord?
I recognize the sound of your quiet whisper and am aware of your touch upon my spirit. I feel your nudge – "look again upon 2013 – finish what you have started."
I want to close the door on 2013. I want to move onto the fresh newness of the year ahead of me. I want to discard the old, let go of the past failures and shattered dreams. After all it is January.
Yet you call me to intentionally look at this past year of my life. I am not sure what I will find, but will take the time to reflect, listen, and learn.
I remember that the inscription at the National Archives in Washington DC reads:
THE PAST IS PROLOGUE.
So instead of throwing away or ignoring last year, I will dwell within its confines once again, searching for what yet needs to be finished.
I will ponder and reread my journal.
Review my travels and lessons and relationships from 2013.
Who I met, lost, loved, ignored.
What tasks gathered dust.
What renewed me and gave me hope, joy and energy.
May last year not be abandoned into the trash, but used as a prologue, an introduction to 2014.
Lord, show me what to bid farewell to from last year and what needs to be carried into the new year.
I live in human time, Lord, forgetting in you time has no boundaries.
My years are arbitrary brackets.
My calling to serve, worship and reflect you continues beyond my imagination and the confines of the calendar.
Show me Lord, your lessons to finish 2013 well and lead me into 2014.