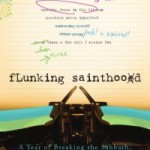 Author Jane Riess has recently published a book by the delightful title of Flunking Sainthood.
She tells the story of her year long experience, trying various spiritual practices like fasting, honoring the Sabbath and generosity.
What I loved about this book is she honestly shares not her success, but her failure with every single practice she tried. It was refreshing to read her reactions, knowing I would be flunking sainthood right along with her.
"What emerges is a vulnerable story of the quest for perfection and the reality of failure, which turns out to be a valuable spiritual practice in and of itself."
Even her subtitle is refreshing and freeing: "A year of breaking the Sabbath, forgetting to pray and still loving my neighbor."
I love her conclusion:
"In a culture that stresses perfection, I've often heard the maxim that 'good is the enemy of perfect', in other words, when people of faith aim for anything short of godliness we miss the mark.
I've learned the reverse is true: perfect is the enemy of good.
I may have spent a year flunking sainthood, but along the way I've had unexpected epiphanies and wild glimpses of the holy I would however have experience without these crazy practices." 
I am taking this book along on our trip to Florida to finish a few of the chapters I skipped – see in addition to flunking sainthood, I also flunk finishing books. HA!  But I wanted to share it with you as I think her honesty, vulnerability and willingness to venture out of her comfort zone are great lessons for all of us.
What books have you read lately to share with us?