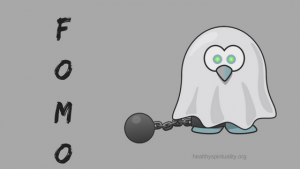 FOMO.  I am seeing this term used more and more. This word has even been added to our dictionaries. Do you know what FOMO means?
FOMO is the Fear Of Missing Out.
FOMO is the uneasy and all too often all- consuming feeling we are out of touch, not in the "in" group. Or heavens forbid, we don't know the latest news, gadgets, celebrity gossip or world's funniest video.
Marketers, sellers, and political persuaders use FOMO.  Ramping up this emotion increases the urgency to buy and buy now or you might miss out.
The fear you might miss something keeps us on social media longer than we want to or is healthy for us. We take our phones to bed with us, just in case.
FOMO increases our anxiety.  What if I miss the next big thing?  How does my life compare to others?
FOMO has been around for a long time in the form of jealousy, keeping up with the Jones, and "but mom, all the other kids have one."  Human nature defaults to assessing our status in relation to others and the deep desire to belong and be included.
Perhaps FOMO is worse now and heightens in this age of information overload, instant messaging, and wonderful multitude of options in life. We are so quickly distracted by the next bright shiny object in a world of inattentiveness and inability to focus. In reality, we ARE blessed with many opportunities. What a first world problem.
FOMO – Fear
Fear is the one of the most effective motivators.  I have a friend who in the past two years has lost more than 100 pounds. When I asked her what made her decide to come to Weight Watchers, she shared a visit to her doctor brought the reality to her of the consequences of her lifestyle.
"I was afraid I wouldn't live to see my grandchildren grow up."
Fear can be a positive influence at times, but when we allow fear to be the main determinate of our decisions and directions, we are living in FOMO.
During Lent, some people give up chocolate.  Others try to do some good each day.  I always step back and identify a habit to deepen or let go of – a practice to draw me closer to God or to release something taking my attention away from him.
This past Lent I gave up impulse buying. I made myself stop before hitting that purchase now button.  Practicing this for 6 weeks, mostly successful (to be honest, I did slip up a couple of times) brought my attention to how much FOMO existed in my decision making.
Countering FOMO
First, I asked God to help me be more aware of FOMO and guide me to manage fear better in my life.
But when I am afraid,
I will put my trust in you.
Psalm 56: 3
The next step in countering FOMO is to name and recognize that fear is in control.  I don't what fear to be the deciding factor for me.  I understand fear is a normal human reaction, that fear will always be part of me, but I don't have to allow it to drive the car.
"Get into the back seat, Fear!"
Don't be afraid, for I am with you.
Don't be discouraged, for I am your God.
I will strengthen you and help you.
I will hold you up with my victorious right hand.
Isaiah 41: 10
Name the emotion and put it where it belongs. Act, don't react.
I used to fear fear.  I wouldn't talk about what I fear or even allow myself to acknowledge what I was afraid of in life. That is exactly why the devil uses fear so much – we don't like to admit it, learn from it, nor accepts what it says about us.
Now I hold fear lightly. I look at it, talk with God about it, dig deeper into the questions why this fear lingers in my heart.  Is it fear of failure? Of not being good enough? That I will be rejected and nobody will like me? That if I move forward, how will my comfort zone change?
Practicing being mindful and present also helps me with FOMO. Finding contention right where I am located at this time grounds me and brings satisfaction that FOMO never quenches. Savoring the ordinary gifts in life and being grateful lessens the urge to fill myself with stuff and busyness.
And I am also learning to deal with the distractions that draw me into FOMO.  I limit my time on social media. I try (note: try) not to hit the purchase now button until I wait for at least 24 hours. I listen to God and my own voice in discerning what is driving a decision to buy, say yes, or commit.
New Meaning of FOMO
Since I am more aware of how FOMO motivated my actions, I found a new way of expressing this emotion. Instead of giving fear the power, I am focusing on God. Faith in his promises is the best motivator.
My new acronym for FOMO is this:
F – Faith
O – Overcomes
M – Multiple
O – Obstacles, like fear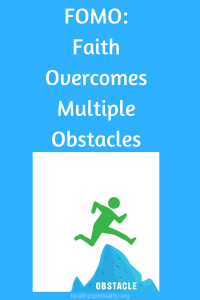 For God has not given us a spirit of fear and timidity,
but of power, love, and self-discipline
2 Timothy. 1: 7
FOMO – the fear of missing out – is not a gift from God, faith is.  Which are you holding in your head and heart?
Have you pondered how much FOMO influences your life? What do you think? 
Let's discuss FOMO and share other ideas to counter it.