How do we fuel our faith? What do we do when our faith need to be rekindled?
When I survey the readers here at Healthy Spirituality, one of the most mentioned struggles is connecting with God and cultivating a deeper relationship with our creator. Too often we live a lukewarm existence mired in a rut of unfulfilled restlessness. How do we live with a vibrant faith?
The concept of fueling our faith began to bubble up last year in my heart, my prayers, and my writing. I felt drawn to compiling a resource to help myself and others energize and feed the God-given faith within us. All this led to my latest book.
Fuel Your Faith – a Practical Guide to Igniting a Healthy Spirituality is a guidebook to fan the flames of your faith. This book is not a deep theological discourse about spiritual disciplines, but a quick resource for ideas to stir the embers of belief God gives each of us.
In Fuel Your Faith, you will:
Discover a potpourri of spiritual practices to move you from stuck to unstuck.
Gather ideas applicable right away to your life to awaken your spirit.
Learn ways to pray, study, connect, and celebrate God's presence.
Find inspiration, encouragement, and courage to explore your faith.
God wants our faith to grow and our lives to glow with his love. It is my hope and prayer  that my little book, Fuel Your Faith will help to empower you to move from the chilliness of shallow faith to the warmth, power, and comfort of a blazing fire.
Fuel your Faith –  The Book
Faith is a gift from God. In God's grace, we already possess faith.
For by grace you have been saved through faith,
and this is not your own doing;
it is the gift of God
Ephesian 2: 8
We have this wonderful gift within us, but so often leave it unwrapped. How do we live with a vibrant faith? How do we fuel our faith?
Igniting a healthy spirituality is both an art and practice.
God is the creator, the center, the energy to nurture the gift of faith he planted within us. He is the art, the light, the More we seek.
Our response is the ongoing, lifelong practice of being faithful. We explore ideas and open our eyes to see his presence and our hearts to experience God in deeper ways. Spiritual practices reconnect us to the Art.
I cannot cause light.
The most I can do is put myself
in the path of its beam.
Annie Dillard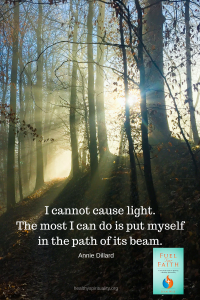 I love this quote as it focuses on God first, not our efforts. The spiritual disciplines are  NOT an end to themselves, something to do or accomplish, relying on our will power and strength. The practices of prayer, study, worship and more simply help us stop running crazy with our egos, tune into God and move our soul back into God's light.
Remember God is the fire. We cannot begin to contain him, to harness him, or to control the heat of his spirit. But we can nurture the sparks, awaken our conscious, and open the flue of our hearts to let his light inward to our souls.
We can cultivate a healthy spirituality. God wants our faith to grow and our lives to glow with his love. What a marvelous gift God gives us – let's enter the Light and fan the flames of our faith.
I am excited that Fuel your Faith in now available at Amazon, Barnes and Noble and where books are sold. And here is the best news of all: the e-book version is FREE! My gift to all of you.
Did she just say free? Yes, she did.  
I wrote this book to help others, and to be honest, help myself focus on the practices that draw me closer to God. I do hope to bring others to this blog and to become part of our community here. And if you and others find the book helpful, I ask you will take the time to leave an honest review on Amazon. It is a wonderful way to say thank you to an author.
Ways to Fuel your Faith
Here is glimpse of the chapters to give you a taste of ways to fuel your faith:
The Flame of Prayer
The Flame of Study
The Flame of Celebration
The Flame of Listening through Spiritual Practice of Writing
The Flame of Worship
The Flame of Service
The Flame of Community
The Flame of Letting Go
The Flame of Adventures with God
The Flame of Gratitude
I included various spiritual disciplines and resources within each chapter but know there are many ways to connecting with God.

Thanks for reading this today and joining in my celebration. It is a special moment for a writer to birth a book.
How do you fuel your faith? I would love to hear your most effective practices.