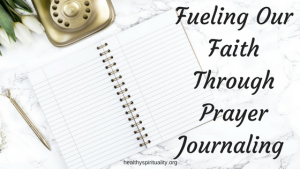 Have you tried prayer journaling?
I am an avid journal keeper and I fully understand this is not everyone's favorite practice. But writing our prayers in a journal can be a wonderful spiritual discipline. At the very least, this practice records our prayers.
Why Write Out Our Prayers in Prayer Journaling?
Writing helps us to articulate our relationship with God. We find the words to express our concerns and even our faith when writing them out on the pages.
Gives us a place and process to organize our thoughts. I often see themes emerge as I write.
What a safe place to explore our hopes, dreams, fears, joys, and concerns.
Provides a record for my answered prayer and for insights over time as we pray.
Keeps prayers and conversations with God we have so they're not forgotten
I hear myself in my journal – so often our voice is drowned out by the noise of the world and my own internal chattering I miss my true desires and what God is whispering to me. Sometimes I am surprised how I write my prayers when finding the words to record.
"I begin these pages for myself, in order to think out my own particular pattern of living, my individual balance of life, work, and human relationships.  And since I think best with a pencil in my hand, I started to write."
Anne Morrow Lindberg
5 Tips for Prayer Journaling
Date your entries. You will be surprised at how quickly time passes or how long some prayers remain on your list. I like to tell people the only two rules to follow when it comes to journaling is to be sure to add a date each time and that there are no other rules.
Be open to different formats. You can try paper or digital. It is fun to experience with new ways to record your prayers. I have a whole list of different approaches to recording your prayers in the prayer journaling course I mention at the end of this post.
Add meaningful scriptures and quotes. These words add depth and insight to your prayers.
"Jesus stopped and called them. 'What do you want me to do for you?' he asked." (Matthew 20:32) Be specific with each prayer request. Occasionally I leave out details just in case the prayer concern would be read by someone else and this could be challenging but I strive for enough details to help me understand, remember, and clearly state the prayer.
End with gratitude. We can never share with God enough how grateful we are that he is listening, caring, and answering our prayers.
Who and What to Pray for in Prayer Journaling
The list is endless who and what to pray for in a journal.
Family
Friends
Future friends and family members
Specific situations
Jobs and callings
World and governmental leaders
Pastors
Church members
Specific ministries and countries
Schools
Homeless
Missionaries
Your neighborhood
Spiritual growth
What you feel God is telling you
Blessings
Rest
Specific prayer requests from others
Discernment
Peace
Healing
Answers for financial needs
Challenging people in our lives
Protection
Guidance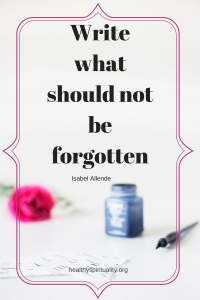 Prayer Journaling Don't's
Don't worry how often you write out your prayers.. Find a schedule that fits you best
Don't worry about what to day. Keep it simple. Talk with God
Don't worry if someone reads your words. Keep this possibility in mind so you may choose your words wisely but be honest, open, and real in your prayers.
Don't' worry how you organize your journal or how neat your handwriting is or if you are using the correct grammar and spelling. This is YOUR journal – you will not be graded.

Resources for Prayer Journaling
I compiled a Prayer Journaling Course: A Practice to Organize, Prioritize, and Energize Your Conversations with God. The course is self-paced, taken on your own schedule, 5 days, 5 weeks or over a weekend.
Topics include:
Organizing a Prayer Journal
Prayer Journal Rhythms
Deepening Prayer through Prompts and Questions
Creative Prayer Journaling
Harvesting your Journal
The course only costs $12 and you can get your copy clicking here
This Pinterest page contains a wide variety of great ideas for prayer journaling;
"Keeping a journal has taught me that there is not so much new in your life as you sometimes think. When you reread your journal, you find out that your latest discovery is something you already found out about five years ago. Still, it is true that one penetrates deeper and deeper into the same ideas and the same experience."
Thomas Merton
In prayer journaling, we remember and stay mindful of God and experience his presence and love, though we may only become aware of his touch in hindsight.
Prayer journaling gives us hope and provides a practical method to cultivate a vibrant healthy spirituality. I hope you try the prayer journaling course and that is blesses your time with God.
Have you tried prayer journaling?  If so how has this practice fueled your faith?
Speaking of fueling your faith, have you downloaded your free copy of my latest e-book Fuel Your Faith – A Practical Guide to a Healthy Spirituality.  Get it today!