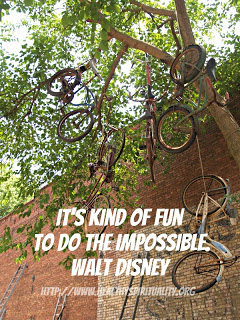 "It's kind of fun to do the impossible."  
I smiled when I read this quote the other day from Walt Disney. The words also made me pause and consider what in my life seemed impossible but would be fun to try anyway.
I wonder if God feels that way sometimes.
"Mmmm," God thinks. "I think I will do the impossible today: let's make hummingbirds to fly even though aerodynamically they shouldn't be able to. Maybe I will add a unique feature to the Alcon Blue butterfly so it becomes one of the few animals to perfectly imitate the smell and sounds of another species. Even better, I will make humans in My image. Yep, that sounds delightful."
I have been thinking about dreams and hopes lately and how we permit the world to discourage us from trying to do what God has planted deep within us. We settle for the safe possible, instead of the risk of new ideals.
I know I am my own worse enemy with negative thinking and self-pity that often stops me thinking my idea is feasible. I listen more to the "disapproving won't work" voices instead of the true song being played in my soul.
My thinking is all wrong. I am letting obstacles sap the delight from attempting possibilities. Instead of seeing what could go wrong; I need to concentrate on joy that gushes from the challenge.

 
Start by doing what's necessary; 
and suddenly you are doing the impossible.
I know realistically there are things I can't do. But there are also ideas I still have time to try.
Ten years from now I still will be ten years older.

 

I may as well dream a little and start playing the unsung music tucked away in my heart.
And who knows?

 

Maybe I will have some fun, doing the impossible.
What impossibilities are you hiding and not enjoying?