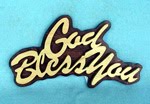 Ah-Choo!
And we all say "
God bless you"
or if you grew up in a household with a German background like I did, we immediately respond, "
Gesundheit!
"
Ever wonder why we do this?
Ancient writings as old as 77 AD mention this practice. People believed your heart stopped when you sneezed or your soul was temporarily expelled from your body. If one was quickly blessed, the devil would not have time to snatch your soul before it returned.
The custom grew more in the sixth century when plague broke out. They thought if you sneezed in the morning you would be dead by night.
"Gesundheit" comes from Germany, and it literally means "health." The idea is that a sneeze typically precedes illness.
In Holland if you sneeze three times, tomorrow will be sunny. Others believe that a sneeze before breakfast is a sign that you will hear exciting news before the end of the day.
Another belief is that people used to see sneezing as a sign that God would answer your prayers or an omen of good fortune or good luck. In this case, "Bless you" would be in recognition of that luck.
Tibetan Buddhists believe a sneeze (like meditation, falling asleep, preparing to die) can provide a moment of "clear consciousness," when people are opened to greater understanding.
Interesting trivia about sneezing is that sneezes travel about 100 miles per hour and plucking your eyebrows may make you sneeze as it may set off a nerve in your face that supplies your nasal passages.
Ronnie Shake wrote, " I fear one day I'll meet God, he'll sneeze and I won't know what to say."
Funny custom, isn't it?
When someone sneezes, we stop what we are doing and look at that person as we say God Bless You. The blessing becomes a way of honoring, recognizing, accepting that person. For one brief moment in time, you bring them into God's light. You ask God's blessing for health, healing, and protection on that person, a way to communicate kindness and caring.
God is present all the time – even in an ordinary occurrence on an ordinary day when someone sneezes.
Maybe the next time I sneeze, I will also remember to thank God for all His blessings – a new twist to an old tradition.
God bless you!!