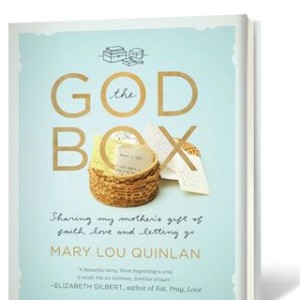 Do you have a God Box?
Mary Lou Quinlan wrote a memoir about her mother titled "The God Box – Sharing my Mother's Gift of Faith, Love and Letting Go." Keeping a God Box is a wonderful spiritual practice I just added to my routine.
The God Box is any box where you keep handwritten notes/prayers to God. No fancy paper or pen, no lavish words, no long theological petitions – just simple prayers scribbled to God for everyday concerns and thanks.
Quinlan writes that the only caveat to her mother's practice was once she put the request in the box, it became God's. "If you think you can handle it better than God, it's coming out," her mom would tell her family. What a way to give hope, comfort and the relief in letting go of the gunk we keep inside our hearts way too often.
Her mom's requests were simple and always dated.
"Dear God, Please make my right ankle stop hurting, Love Mary. "
"Protect Jack in decisions about his job. Thank you for all your blessings. Love Mary."
After Mary died, the family found ten mismatched boxes in her closet – God Boxes all stuffed with twenty years of prayers. What a legacy for her family to cherish.
"Finding the God Boxes was like reading Mom's heart. It was incredible to see the sheer scope of her faith, so certain, so unedited. Her unconditional belief in God came alive for me, as fresh as I remembered it from all the years of growing up as her daughter and best friend. Opening the little letters was like feeling her hug all over again."
A priceless gift to her family. A simple practice that brought joy and faith to her loved ones. What a neat way to pray and let go. I learned there is even a mobile app if you want to do this practice digitally.
But I like the paper method best.
So down to the basement I went last Tuesday. I searched through the Christmas boxes to find a sturdy box with a lid. This became my first (of many I hope) God Boxes. I dated and wrote my first prayer on a simple scrap of white paper. I signed it " love me" as I figured God knew who I was – haha.
When I pray I imagine putting my concerns, fears and joys into God's hands. The practice of a God Box is a tangible reminder to let go and leave Him in charge. Once I give them to God, I can't sneak back, claiming them and clinging to them once again. They belong to him. All of me and all my prayers – belong to Him.
What do you think of the God Box?