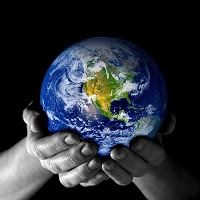 When the earth and all its people quake, it is I who hold its pillars firm. Psalm 75:3 (NIV)
"it is I who hold its pillars firm."
Another earthquake?  I couldn't believe my ears when I heard the news. Lately it seems as if the earth is restless.
Yet, Lord when I read this verse, I feel safe knowing you hold the pillars firm.
What an image! God cradling the earth in his mighty hands. Staying with us no matter what life and nature heaves into our lives.
God holds us firm.
Though destruction surrounds us, you restore and rebuild,
God holds us firm.
Though all we knew and relied upon is gone,
God hold us firm.
If our hearts break with loss beyond our comprehension
God holds us firm.
Our actions and sins threaten the world, Lord, yet you are there, holding us firm.  You never let go and I rest in that promise. 
God holds us firm.