"For it is God who is at work with you, enabling you both to will and to work for his good pleasure."
Philippians 2: 13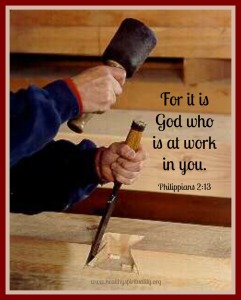 So often, Lord I think of myself as a failure, a flawed human being.
While that is so true, how reassuring are these words that you are at work within me.
I am incomplete, imperfect, raw and unfinished.
But You, the Great Carpenter, take your hand tools and like Gibbs in NCIS, gently shape me to Your original divine blueprint.
Shaving off inadequacies and smoothing bumps and bruises, your grace continues to hone my heart and chisel my character to be more like You.
All is not lost.
All is not yet done.
All of me, being slowly fashioned into a masterpiece, to live with you for eternity.
My job is to be open and willing to obey your leadings in this process.
To stay within your carpenter's shop and surrender to your tooling.
To submit to your vise and hammer and accept the work of the Master.
Thank you, Oh Holy Artist, for your work within me.