I spent part of Easter afternoon rereading the accounts of Easter and Jesus' resurrection.
One of my favorite stories is the encounter of Mary Magdalene with the risen Christ.
"'Woman,' he said, 'why are you crying? Who is it you are looking for?'

Thinking he was the gardener, she said, 'Sir, if you have carried him away,
tell me where you have put him, and I will get him.'
Jesus said to her, 'Mary.'"

  

(John 20:15-16a)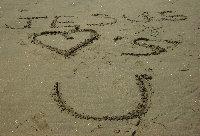 I think one of greatest fears is being unknown and just think God, who created the entire universe and Jesus, who came to earth to be close to us, to die for us – knows our name.
What intimacy! The sound of our names spoken from the lips of our Savior is the nearness that opens our eyes, dries our tears, and mends our devastated hearts. Jesus knows us so well, our names are carved in the palms of His hands. He draws us so close that we can hear the heartbeat of His love.
My every need disappears, my ego-driven wants evaporate, and my self-centeredness dissipates in the powerful moment of God says my name in love.
He knows our names!
Divine tenderness beyond our comprehension!
"Who is it you are looking for?"