"The Lord is not slow about his promises, as some think of slowness, but is patient with you, not wanting any to perish but all to come to repentance"
2 Peter 3: 9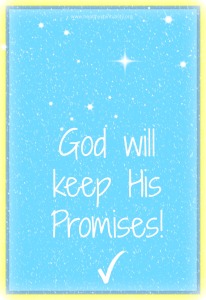 I am impatient, Lord.
I want you and I want you now.
Come, please come to me.
Saying this prayer aloud makes me realize how ridiculous I sound. Me? Telling you? Not going to work is it, Lord?
I sense you smiling, knowing my foolishness, my ineptitude, the silliness to assume I know better than you – the Lord of the Universe.
What I see as slowness in your promises is perfect timing on your part, Lord.
I have seen this truth in Bible history, friends' stories and my own experience.
Help me let go of my need to control and relax in trusting your fulfillment of every promise.
Every promise.
I have no reason to fear.
To worry.
To take over.
To tap my fingers wondering if you will ever show.
You will.
I have your promise.
I know you and believe.
You know best.
You see the whole plan.
You shape the past, present and future.
I thank you for your patience, allowing us time to grow and learn and turn our hearts once again back to you, our Creator.
Thank you for being the God of promise.