So he got up and returned to his father.
The father looked off in the distance and saw the young man returning. He felt compassion for his son and ran out to him, enfolded him in an embrace, and kissed him.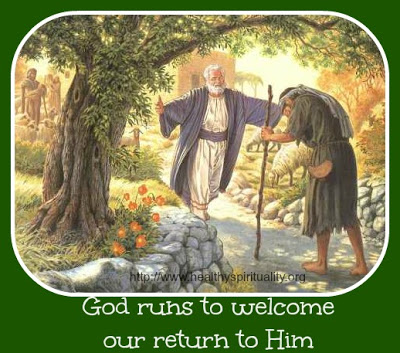 I turn with lowered eyes and shame dripping my from head.
I barely turn the corner, limping back.
You come the furthest to welcome me home.
The prodigal – full of fear and dread and remorse.
The Father – full of nothing but love.
With the first hint in my eyes of seeking Your face,
I wonder what your eyes look like in that moment of love, greeting this lost child of Yours.
Lord You come to us, for us.
You descend into our sin.
You embrace us and lift us up.
You look off into the distance, watching for our slight turn towards you
and Your heart fills with compassion.
You don't see the rags, the dirt, the sin coating me.
And You run to embrace me and hold me forever.
Lord, Your words don't condemn, but welcome me home as Your child.
Your embrace brimming with Love.