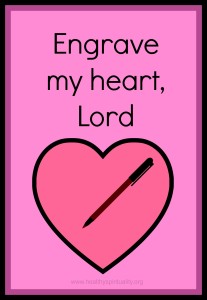 I will put my instructions within them
and engrave them on their hearts.
I will be their God,
and they will be my people.
Jeremiah 31: 33 (CEB)
Will it hurt, Lord?
When you engrave my heart?
Engraving implies a deep insertion of your word.
Heart surgery is always serious and risky.
I will be vulnerable.
I will be transformed.
To engrave means to carve into a hard object.
Forgive my closed heart.
Soften my dense inner world.
Chisel my false casing and scrape off the dead shell covering my spirit.
May I be more like soften clay in an Artist hand than concrete.
I hear your soothing promise to be my God.
My heart melts at the invitation to be your people.
When I turn to you, my fear is gone.
There is comfort and peace within your promise.
Pour your wisdom and instruction within me, Lord.
I stand before you, Great Engraver – open to receive and unmasked in your presence.