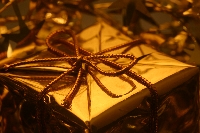 "Why do we have this gift and yet not realize it? Perhaps God does not want to force anything on us that we do not actually desire or choose for ourselves. So a lovely dance ensues between God and the soul that preserves freedom on both sides.
"The gift is objectively already within, and yet has to be desired and awakened by the person. Faith is often clarified and joy-filled hindsight – after we have experienced our experiences. But the path ahead still demands walking in trust, risk, and various degrees of darkness.
"We are always and forever the conduits, the instruments, the tuning fork, the receiver stations. We slowly learn the right frequencies that pick up the signal. The core task of all good spirituality is to teach us to 'cooperate' with what God already wants to do and had already begun to do. In fact, nothing good would even enter our mind unless in the previous moment God had not already moved within us. We are always and forever merely seconding the motion."
The Naked Now
by Richard Rohr.