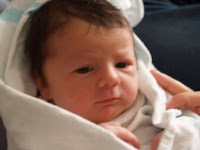 My world changed on June 5 2009. Kyla Eve Rummel was born, my first grandchild.  I wrote on this blog shortly after that grand day:
Did you hear it? That loud whooshing noise last Friday, June 5th?
At the exact moment of my new granddaughter's birth, with her first intake of air, Kyla Eve stole my heart. Love for this new child swiftly gushed into my core and changed me forever.
Whoosh! Love exploded triggering a chain reaction. Every instinct inside me wants to protect her, love her, and see her daily.
Whoosh! My arms ache to hold her, to touch her.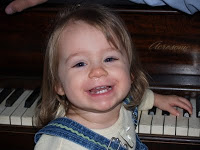 I watch her now as a toddler, exploring the world, learning new words, and embracing each moment as newly discovered treasure.  
You may have read in one of my past blogs how I got my grandma name, Amma.
On the silent retreat I attended last week, I read Robert Wick's book,
Crossing the Desert.

In this book Wicks tells about the ancient desert fathers and mothers in the 4th century who provided guidance on how to live. The book companioned me on the retreat on many levels including providing me with a grandmother name.
A desert mother was called Amma. Amma refers to a wise woman, a play on words for me since my last name is Wise. And Amma nurtured the spiritual formation of others – the key role grandmothers have in the lives of their children and grandchildren. I am Amma.
People warned me that Kyla may change my name. She would be only one I would give that privilege to do that. And with her 2-year-old independence, she did just that.  I am now Ammie.
On Easter as we finished dinner with Kyla and her parents, I was chatting away about something and she looked at me and said with solemn clarity: "Silly Ammie." How could such a young 'um have such wisdom and insight about her silly Ammie?
Just the thought of Kyla makes me smile.
I think God must feel the same way about us. His nature to protect, love, and nurture us. 
His deep desire is to have a relationship with us no matter how we squirm from His arms and run away.
His openness to however we call Him: whether it is in anger, love, or desperation. Whether we cry out: Lord, Father, Mother or when no name comes to our lips and we dwell in wordless wonder.  
I wonder if He takes pleasure as He watches us explore His creation.
Just the thought of Kyla makes me smile.
I wonder if God smiles when He fixes His loving gaze on us.