The moment we get tired in the waiting, God's Spirit is right alongside helping us along. If we don't know how or what to pray, it doesn't matter. He does our praying in and for us, making prayer out of our wordless sighs, our aching groans. He knows us far better than we know ourselves, knows our pregnant condition, and keeps us present before God. That's why we can be so sure that every detail in our lives of love for God is worked into something good. Romans 8: 26-28 (The Message)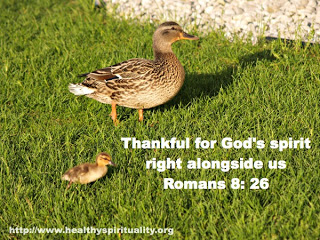 God's Spirit is right alongside
Our Light in our darkest moments.
The barely Noticeable Nudge on our shoulders and Quiet Whisper in our heart.
You are the Soothing Breeze refreshing our soul.
And You stay right alongside us always helping us along.
When I am tired – You lift me up.
When I don't know how to pray – You pray for me.
When I can't even find the words – You connect me to the Word.
When only my tears flow and my head shakes in disbelief, You gather my sorrow and lift it up into the Father's hands.
When I am lost, You protect me, guide me and show me my next step.
You see to every detail from the feather on hummingbirds to the Milky Way.
Yet You stay right alongside me.
Thank you for coming beloved Spirit of God!