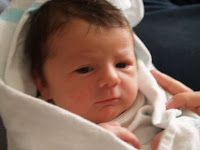 God's Whoosh
WHOOSH!  Did you hear it? That loud whooshing noise last Friday, June 5th?
At the exact moment of my new granddaughter's birth, with her first intake of air, Kyla Eve stole my heart. Love for this new child swiftly gushed into my core and changed me forever.
Other grandparents warned me. "You will love being a grandparent."
"There is nothing like it in the whole world."
"You will be amazed. "
I pooh-pawed them, thinking I knew better. After all I am in control. I know what to expect. What a fool I am!

Whoosh! Love exploded triggering a chain reaction. Every instinct inside me wants to protect her, love her, and see her daily.
Whoosh! God longs to protect us, love us and be with us with His exploding love.
Whoosh! My arms ache to hold her, to touch her.
Whoosh! God's arms surround us, even as we tug to pull away.
Whoosh! I want the best for her as she grows and anticipate joyous times together.
Whoosh! God yearns for our best and showers us with joyous, often unrecognized blessings.
Thank you, Lord for this new life. I think Kyla will teach me quite a bit about Your love.