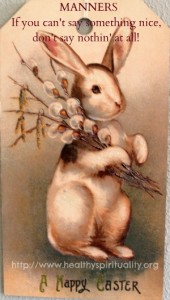 Gossip needn't be false to be evil — there's a lot of truth that shouldn't be passed around.
~Frank A. Clark
This quote hit me hard this week. See I learned a lesson about gossiping – one you would think I would know by now.
I saw a friend I used to work with before we both retired. We were sharing friendly updates about each other when I trip down the gossip grotto.
"Did you hear _______ stepped down from her position but is still working there in a new position?"
My friend hasn't heard that news and we both wondered what happened.
Last week I ran into my friend again. She said she ran into ______ who was shocked to hear that rumor and said it wasn't true. Mmm, my conscious alarm went off as I realized I passed on a false tale. Just being friendly is no excuse for talking about someone. There was no purpose in sharing that info. Yep, I gossiped!
Gossip has been defined as repeating something you have not right to repeat.  I am guilty and I am not proud of it either. Hanging my head in shame to be honest.
The Bible tell us:
For I fear that perhaps when I come I may find you not as I wish, and that you may find me not as you wish—that perhaps there may be quarreling, jealousy, anger, hostility, slander, gossip, conceit, and disorder.
2 Corinthians 12:20
Whoever keeps his mouth and his tongue keeps himself out of trouble,
Proverbs 21: 23
But avoid irreverent babble, for it will lead people into more and more ungodliness. 2 Timothy 2: 16 
My mama would quote Thumper the Rabbit in the Bambi movie:
If you can't say something nice, don't say nothin' at all!
Yep, I gossiped and didn't feel good about it. I knew better yet the words still came out.
Lesson learned. Gossiping is not something I want to do or be known for. I've asked God for forgiveness and his strength to keep my mouth shut. This experience woke me up again to be more aware of what I say. Gossiping left a bad taste in my mouth.
One final thought about gossiping:
Conversation is an exercise of the mind; gossip is merely an exercise of the tongue.
Unknown 
Have you ever been caught up in gossip? What lesson did you learn?