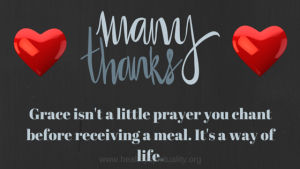 Our pastor shared this story last Sunday that has lingered with me this week. He was preaching on the text:
Giving thanks to God the Father at all times and for everything in the name of our Lord Jesus Christ.
I really do believe in the power of gratitude but never really considered how being thankful also adds joyous seasoning to my life too. Here is the story he shared:
The late Dr. Fulton Oursler used to tell of an old woman who took care of him when he was a child. His caregiver not only expressed her thanks, but felt it and lived it each moment. You see, Anna was a former American slave who, after emancipation, was hired by the family for many years.
He remembered her sitting at the kitchen table, her hands folded and her eyes gazing upward as she prayed, "Much obliged, Lord, for my vittles." He asked her what vittles were and she replied that they were food and drink. He told her that she would get food and drink whether or not she gave thanks, and Anna said, "Yes, we'll get our vittles, but it makes 'em taste better when we're thankful."
Everything tastes better when we are thankful. Lots of truth in that statement.
Not only does gratitude add flavor and color to our lives, I believe it protects our heart and mind too.
I know when I practice gratitude there is less chance that despair or disillusionment will dig their claws into my spirit. I have heard that discouragement seeds won't grow in the heart of a grateful person.
"Piglet noticed that even though he had a very small heart, it could hold a rather large amount of Gratitude."
A.A. Milne
Gratitude can transform common days into thanksgivings, turn routine jobs into joy, and change ordinary opportunities into blessings.
Williams Arthur Ward
The discipline of gratitude is the explicit effort to acknowledge that all I am and have is given to me as a gift of love, a gift to be celebrated with joy.
Henri Nouwen
Everything tastes better with gratitude. Spice up your life today and be thankful.
What is something lately that you are grateful for?