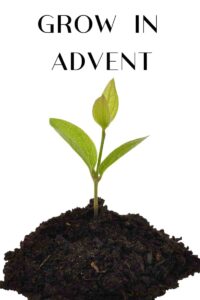 Advent? Already? Yes, this special time of year is coming soon. Advent begins November 28 and is one of my favorite seasons of the year. The candles, music, words, and themes stir my spirit and refocus my heart of the true reason for the season. Exploring Advent themes brings peace and depth to my walk towards Christmas.
Advent is the four weeks before Christmas and is a season of waiting, expecting, and hoping. Advent prepares our hearts and minds for the coming, or "advent" of the Christ child at Christmas.
How will you grow during Advent?
I ask God and my own soul that question every year – how do you want me to grow, to prepare my heart for the new church year?  Yes, the new church year begins with this holy season too. Happy New Year! LOL
GROW is a great acronym to guide us during Advent.
G – God
R – Read
O – Open
W –Word and Wonder
*****************************************
G – God
First, I begin with God. Duh! You would think this is obvious but no, I tend to launch into my own plans, elaborate agendas, and ego-driven things to accomplish before pausing and asking God how he wants me to grow. I am learning to slow down – hard lesson for me – and be still before the Lord. Often that itself is the lesson -to be, not to do.
I give God my calendar and seek his wisdom on how to spend my time during Advent. Then I wait – wait is a key theme in this season.
R – Read
Advent is a wonderful time to read a seasonal devotional. The Advent devotional I wrote –Christmas Crossroads – is available on Amazon. This year I plan to "shop" my own bookshelves for a book I already own to revisit this year.
There are many wonderful online readings available too. Here are a few links:
O – Open
"Being open" is the call I am hearing this season. Sit still with my palms open, surrendering all my expectations and self-centered opinions and listen and receive.
Questions:
Lord, what image, Bible verse, word/phrase centers my Advent time with you?
How should I prepare my heart for Advent?
What are the things you are inviting me to let go of? That block me from fully celebrating with you?
W – Word and Wonder
Advent is a time to savor the Word of God. There are lots of Advent Bible Reading Plans but I think I will follow this one in 2021.
Wonder – what a great word for entering the celebrations of the birth of our Savior. May our hearts and eyes be widened by the wonder of all God's creation and gifts. May we wonder through God's world amazed by creativity, generosity, and grace. May wonder light our way to Bethlehem and into the story of God's love.
How will you GROW in Advent?