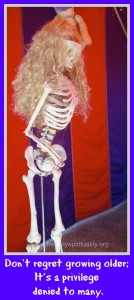 "Don't regret growing older; it's a privilege denied to many" is my mantra this week.
I am trying focus on this blessing but it is hard. You see Wednesday is my birthday – a significant year. A "get the red, white blue card in the mail from the government type of birthday." A year beyond "will you still love me, will you still need when I'm ____?" song being played kind of celebration. See I can't even write out the numbers.
I don't feel that old.
There is a place inside of me that totally denies my age.
I think some cruel trick has been performed – a wizardly magic that catapulted me into the future and into a distant age.
I fully believe that my mother made a mistake on my birth certificate, writing down a 5 instead of a 6 or 7 or even 8. My kids tell me that would make me younger than them. What's wrong with that?
My internal clock accurately says I'm in my 30's, okay perhaps 40's. I used to say the decade of my 50's was one of the best ones as I felt at that age I finally become my true self.
What is wrong with me? Is it the reality of growing older and facing mortality? Is it fear of what old age may bring? I should be thanking God for this privilege, this gift of life no matter what age, but just haven't been able to spit that prayer out yet.
This year of turning one year older bothers me deeply. I am older than my parents ever experienced. I don't get carded any more – I automatically get the senior discounts without asking. When a young'un says "yes, Ma'am" I cringed.
No wonder one of my favorite shows is Peter Pan. "I won't grow up!"
So I am focusing on that mantra. Putting up a good face and doing my best to believe its message and be thankful for life. I will embrace the time I have left here on earth with grace, love and a sprinkle of fun.
Wisdom comes with aging. Knowing yourself better does too. I am closer to God now than ever before and feel his presence in new ways. I value lifelong friends and friendships deeper. I miss some that have already moved on. I like having the perspective and perception found only in experience – both the good and bad.
My plans? My next step into this phase in life that I really am unprepared for?
I will live my life and forget my age.
I will smile, giggle and always try to choose love.
I will hold lightly and with much gratitude the gifts God has so lavishly blessed me with: health, family, friends.
And I will allow that younger kid in my heart to live too by enjoying the moments of laughter and whimsy.
I will celebrate each day, each breath and each year
And to top this year off I am going to Disney World the end of April. How's that for some fun?
Thanks for reading, listening and understanding today. I am open to any insights from you about coping with difficult birthdays. I appreciate your wisdom.