March is Women's History Month or should I say Women's Her-story Month.

 

The Tuesday and Friday posts this month will feature women who lead lives that could serve as models for us in our Christian walk. It was difficult to narrow the list for the few dates in March but I did try to find some women you may not know very well and women writers.

 

Enjoy!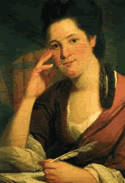 Hannah More
was an English author, poet, playwright, and philanthropist who lived in both the eighteenth and nineteenth centuries.
At the age of sixteen, Hannah composed a drama, "The Search After Happiness", which was later published and widely read. She continued to write plays and poetry.
Around 1779, she felt God called her away from the stage and she increasingly turned to more distinctly Christian work. With Pastor John Newton, author of the hymn "Amazing Grace", as her spiritual mentor, she went on to pen such works as "Sacred Dramas", a satirical tale, "Florio", and "Religion of the Fashionable World". All of Hannah's writings were infused with strong moral purpose. She wrote a series of popular essays encouraging Christian leaders to establish moral laws.
In 1787, dismayed at the depravity and poverty of mining towns, Hannah and her sister began establishing Sunday Schools in many area villages. She founded several schools and soon extended her charitable efforts for the education of the poor into all the surrounding country.
Within ten years she was supporting and administering over sixteen schools, teaching destitute children how to read, learn Christian morals, and acquire life-skills that they would keep with them forever. Hannah wrote many of the books used in the schools because she felt that Christian teaching should be the foundation of all education.
In 1795 she began a monthly journal while living in Bath called the "Cheap Repository", consisting of short moral tales that she composed. This periodical attained a very large circulation and one of her most popular stories was "Shepherd of Salisbury Plain", which went through many editions and was translated into several languages.
Her writing brought her much personal fame and financial success. She was able to save about $150,000 from her writings, one third of which she bequeathed for charitable purposes. Hannah More died in Clifton on September 7, 1833 at the age of eighty-eight.
Look at her quotes below.
Couldn't this woman be speaking to us today
?
Selected quotes:
Forgiveness is the economy of the heart… forgiveness saves the expense of anger, the cost of hatred, the waste of spirits.
Love never reasons, but profusely gives; it gives like a thoughtless prodigal its all, and then trembles least it has done to little.
Obstacles are those things you see when you take your eyes off the goal.
Procrastination should not be excused, but noticed.
Indecision – it is not so often caused by reflection as by the lack of it.