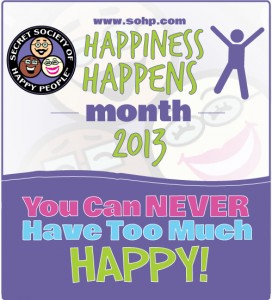 What is happiness?
"Jean Anne is such a somber child."
I overheard this statement from one of my mom's dear friends. She was talking about the 7 year old me. I never forgot it.
Childhood experiences and beliefs attached to our minds and hearts like superglue. Many times we aren't even aware of their power. As an adult I am amazed that I continue to get to know myself better.
"Is that really like me?" I will ask my hubby or close friend when realizing some characteristic about myself with new insight. I need a trusted outsider to confirm it. My blind ego stumbles upon a new awareness that I never saw before and I am shocked with surprise.
Somber? Me? As an adult I made the decision to choose happiness. My default switch is set on pessimistic so I have to actively push it towards optimism. Sometimes I feel like I am swimming against the waves of gloominess and being too serious in order to splash in the clearer waters of joy.
"Some people think it is difficult to be a Christian and to laugh, but I think it's the other way around. God writes a lot of comedy, it's just that [God] has so many bad actors."
– Garrison Keillor
Psychologists and physicians have long known that happy, cheerful people enjoy better health. It goes back several thousand years to Solomon who observed that "A merry heart doeth good like a medicine."
I discovered a cool web site a while back called
The Secret Society of Happy People.
  Pamela Johnson is the founder and the genius behind this month to celebrate happiness. I am joining them.
Now I am not trying to be shallow or avoiding the harsh sinful side of life. I am choosing to focus on joy this month.
Explore its gifts.
Smile more.
Share some happiness with others.
Savor the present moment with fewer distractions of the past or concerns about tomorrow.
Focus on showering joy on others, not just me.
I believe God invites me to explore happiness with him and with his delightful help he transforms my misshapen clump of discouraged clay I once was into a merry masterpiece.
"I am quite happy to be called an optimist, but my optimism is not of the utopian variety.
It is based on hope.
What is an optimist?
I can answer for myself in a very simple fashion:
 He or she is a person who has the conviction that God knows, can do, and will do what is best…"
– Pedro Arrupe
What makes you happy? I would love to hear about what brings you joy.