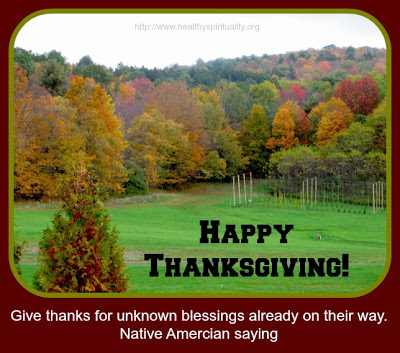 For those in the United States, Happy Thanksgiving.

For my friends living elsewhere and my friends in this country, each day can be a day full of thanks when we pay attention to all the gifts from God.

Everything is a gift.

Friday is traditionally called "Black Friday" and consumerism conquers character in the mad rush to buy, buy and buy.

I saw this article at the Huffington Post and think it is a great idea for all of us this time of year:


Jon Sweeney writes:


"Thanksgiveaway (proper noun): 
The day after Thanksgiving in the United States that describes people's attempt to shun what had become a tradition of shopping furiously for bargains, once known as "Black Friday," with a day devoted to cleaning out extra clothing, unneeded books, rarely used cooking utensils and appliances, and other non-essential or duplicate household items, and giving them away to others who may need them."

Let's spread the word about this great idea.