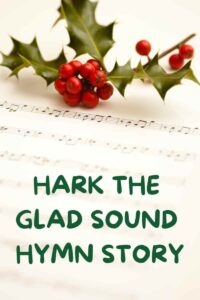 "Hark, The Glad Sound" was the first hymn we sang this year during our church's midweek Advent Service. I noticed it also is the first hymn listed in our hymnal in the Advent section.  I knew this song but didn't know much about its author and enjoying learning the hymn stories behind our church music. Its words present wisdom and insight for our Advent time too.
Philip Doddridge wrote this hymn in 1735. Do you know anything about him? I didn't and was surprised to learn he composed more than 400 hymns in all, Most of his music wasn't published but was created for and intended for his congregation, generally to accompany his sermons. His congregation didn't use hymnals, but instead had someone sing the hymn line by line from the pulpit with the congregation repeating each line in turn.
I was also amazed on how old Hark the Glad Sound was – created almost 300 years ago.

Doddridge was born in London, June 26, 1702.  He was the youngest of 20 child­ren and at birth showed so lit­tle sign of life that he was laid aside as dead. One of his at­tend­ants, think­ing she per­ceived some mo­tion, or breath, took that ne­ces­sa­ry care of him and his life was restored.
As a young adult, a rich patron offered to pay for his education leading to ordination in the Church of England. He refused and instead chose to remain in the Non-conformist Church, which means that he did not accept the authority of the Church of England. For twenty years he pastored a poor parish in Northampton, where he also opened an academy for training Non-conformist ministers and taught most of the subjects himself.
He died in 1751 from tuberculous. After his death his hymns were published by his friend Job Orton, in 1755. What a gift of music that would have been lost if a friend hadn't stepped in to save his compositions and create this legacy. Below is a video with the song and lyrics. If you are reading this by email, you may have to go to the blog post to hear it.
The first verse resonated with me especially in Advent. "Let every heart prepare a throne and every voice a song." What better instructions for us during this season.
How are you preparing a throne for God in your heart and what is the song God gave you to sing?