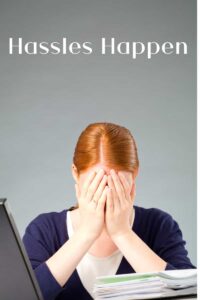 When you travel, hassles happen.
When you don't travel, hassles happen.
I was thinking the other day about some of the glitches that occurred on our vacations. Moments of frustrations. Change in plans. Disappointments. Then I remember snags, detours, and mishaps occurred on almost every trip – some I remember, but often most fade behind the good memories.
But hassles happen even when we don't travel, right? Those everyday nuisances, interruptions, glitches. Internet that won't work. Dead batteries. Missed appointments. Too many things to do. Dishes break. Forgotten birthdays. Misplaced items.
Hassles happen. Glitches are a part of life, home or while traveling.
Now I am not referring to major life events – a troubling diagnosis, a failing marriage, a job loss, or unexpected death or injury. But when I step back and look at life, it is the little annoyances that many times drain our spirits.
Ever notice how these tiny gremlins accumulate? That is when I lose my patience and perspective. I get so weary when they pile up in a huge heap of setbacks.
We hit these minor obstacles and fall into powerlessness instead of recognizing their limitations. I know at first, I think most frustrations are avoidable and unnecessary, but in reality they continue to happen. Hassles are inconveniences, not major life events.
I needed that reminder. Maybe you do too.
Researchers found that it wasn't just the number of hassles that made the difference, but how the hassles were perceived. In general, interpreting problems as if they a global (always, everything), permanent, or personal leads to much more stress than the trio of specific, temporary, and situational.
Hassles happen no matter if we are at home or traveling. What can we control when we are suddenly in a situation that feel uncontrollable? Our attitude.
We can pray. Being faithful even in tough times. God is with us even in the hassles.
We can take slow deep breaths.
We can notice and name our feelings.
We can listen and learn.
We can try to find joy or a life lesson in the snag – a message in the mess.
We can step outside of the inconvenience and gain perspective. Will this really matter in 10 years? Even next week?
"So do not fear, for I am with you; do not be dismayed, for I am your God. I will strengthen you and help you; I will uphold you with my righteous right hand." Isaiah 41: 10
I am thankful God is with me, strengthening me, even in those tiny tough times. Next time I stumble and get overwhelmed I hope to remember hassles happen, but God is in charge.
How do you handle hassles?