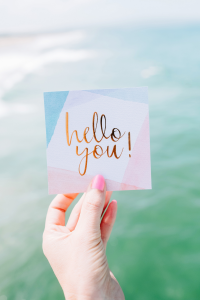 Hello!  A simple delightful greeting we all say.  I didn't know though until recently that November 21 celebrated this word.
November 21 is the 48th annual World Hello Day. The purpose of this day is simple – to encourage communication and dialogue between people of different backgrounds in order to achieve peace and understanding.
And we all need peace and understanding especially in turbulent times like we have experienced this year.
World Hello Day began in 1973 as a simple response to the conflict between Egypt and Israel. The conflict was called the Yom Kippur War. Two brothers, Brian McCormack and Michael McCormack, founded World Hello Day. They mailed 1360 letters in 7 languages to encourage world leaders to participate. Today it is a global expression of peace in 180 countries.
Did you know that:
This is one of the first words a baby says. My kids started with Da-da but learned early on how to wave hello and bye-bye.
Thomas Edison was the first to say this word upon receiving a phone call the first ring of a phone, but Alexander Graham Bell wanted people to use the word ahoy as a greeting. Supposedly his rival Thomas Edison suggested hello, while Bell stubbornly clung to ahoy, and well—you know which one stuck around.
Hello is believed to derive from the word hail, which dates back to the Middle Ages and is considered a variant on a number of other similar words—like hallo, holla, and hollo—that were used to hail and shout to gain attention and recorded prior to the 1800s. 
Hello is related to other words that mean health.
Hola, Bonjour, Guten tag, Ciao, Namaste, Salaam, Ohayo, Jambo, and Nay hoh, are all ways to greet in other languages.
The word "OKAY" is the most popular in the world but hello would be high on the list too.
We are encouraged to say hello to 10 different people on November 21. Don't just reserve this word for co-workers, friends, and family members. You can also say hello to strangers. Perhaps you'll be sharing an elevator or shopping in the same aisle at the grocery store.
Actually verbalizing a greeting is even more important in this day of wearing masks when others can't see you smile as a friendly welcome.
When saying hello, keep track of how many people say it back. Also, try to gauge how they feel when you say this simple word.. Are they pleasantly surprised? Maybe saying hello will even help you make a new friend. If you have not spoken to someone in a long time, text or call. It might just help bring peace to the relationship.
Hello is a gesture of peace, is simple, easy to do, and doesn't cost a thing. What a wonderful way to make another person's day and lift their spirits. We all have a deep desire to be loved and to belong – recognizing the existence of another with a humble greeting honors one another. Isn't that how God wants us to treat each others?
You can't change the world in a day, but you can help everyone you come in contact with have a little bit of a brighter day if you say hi with a smile. Raymona Brown
I like to begin each day with Good Morning God! So even saying hello to God brings our soul peace and joy.
Hello, dear blog friends.  May you experience peace and joy today and always.
Who will you say hello to today?